The Makers Academy Scholarship Program provides support for women in the first stages of starting and growing their own business. The scholarship is an opportunity to be enrolled in an online education platform to develop their business, photography, design and blogging skills, while being supported by an encouraging community of makers and creatives.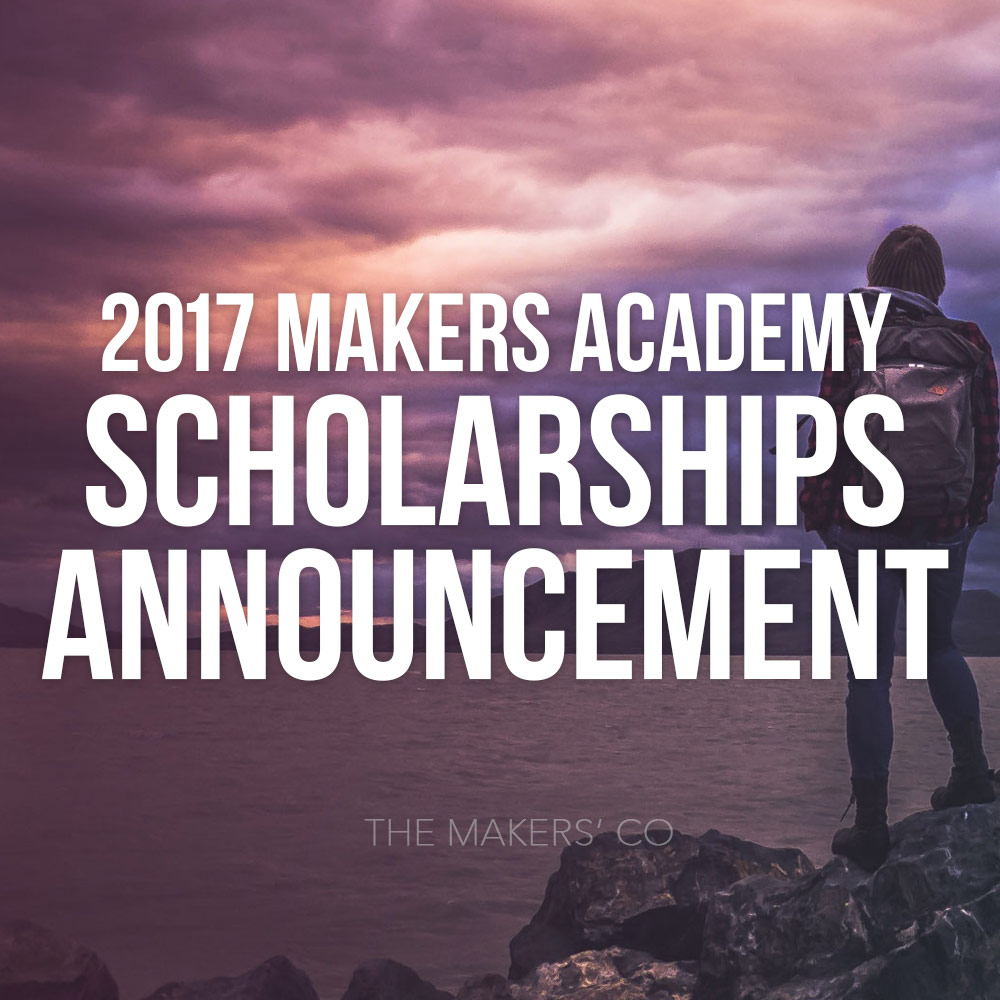 The scholarship program is an opportunity for participants to also gain advice and mentorship from someone who has travelled the path and is passionate to see them succeed.
I received 91 stellar applications for the scholarship this year
They were honestly all so inspirational and it made it incredibly difficult in choosing our 17 recipients. Luckily I had some help, from HerCanberra, Style Curator, Canberra Wise Women and Mums With Hustle, who have chosen their respective recipients, as outlined below.
---
Her Canberra scholarship recipients:
Kathryn Formosa
Sue Kemenes
Tegan Williams
---
Style Curator scholarship recipient:
Laura Delaquis
---
Canberra Wise Women scholarship recipient:
Indiana Holley
---
Mum with Hustle scholarship recipients:
Mara Girone
Trish Evans
---
The Makers' Collective scholarship recipients:
Kerri Sheppard
Karen Harbottle
Linda Williams
Kim Kelly
Sabina Foster
Tiffany Danilewicz
Queen Okpakhalu
Mel McFadden
Sophia Graham
Lizzie Randerson
---
A big, huge congratulations to all the scholarship recipients for 2017, I cannot wait to see what you do with this opportunity! 
Each scholarship recipient receives a Makers Academy Full Enrolment Package ($595 value) and one 30 minute private online consultation ($50 value). A total of 17 full scholarships will be awarded, selected by The Makers Co and leaders in our creative community. 
A Makers Academy Full Enrolment Package includes the following:
Build Your Own Website course (Free) 
Divi Masterclass ($49 value) 
Blogging for Beginners – released October 2017 ($49 value) 
Photography for Beginners ($97 value) 
Product Photography – released June 2017 ($97 value)
Photos for Social Media – released August 2017 ($49 value)
Business – Plan Class ($149 value)
Business – Launch Class ($149 value)
Business – Grow Class ($149 value)
Graphic Design for Small Biz – released Dec 2017 ($149 value)
Clever Design Club – released September 2017 ($197 value)
Design Tech Skills – released Feb 2018 ($149 value)
If you are a scholarship recipient and have not received an email from me, please get in contact.
If you're ready to take your business idea and make it a reality, it's time to become a member of The Makers Academy. 
I give you the tools to plan, launch and grow your idea into a thriving business so you can become self-employed and stay that way.
Cut through the bullshit so you can start creating your dream business, TODAY