It's link-up time! I'm starting a new, easy little link-up which I will post every couple of weeks, titled "What's in/on your…?"
It is super easy, because at minimum, all you have to do is snap a pic and share it here. If you want to go into more detail about the subject, feel free!
I LOVE getting a little sneaky-peek into other peoples nooks and crannies, and I bet a lot of you do, too 😉
SO! To start off, I'm asking: What's in your book pile?
Mine is on my bedside table and this post gave me an excellent excuse to tidy that mess up (aka throw-everything-in-the-cupboard-part-of-the-bedside-table-and-dust-the-top-with-a-tissue-and-a-bib).
So currently, here it is: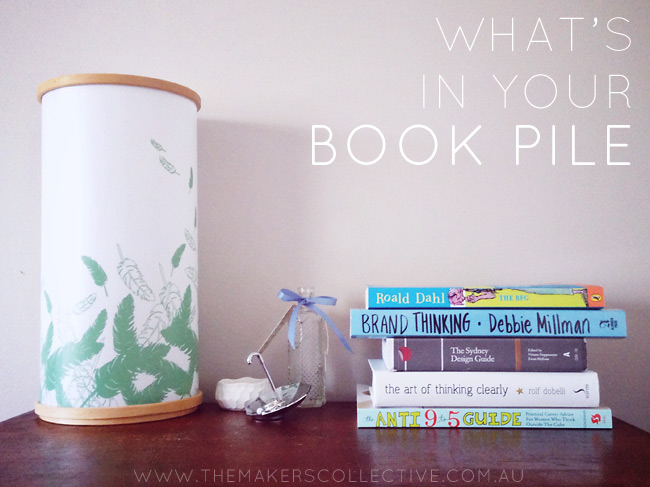 I've *just* finished reading The BFG by Roald Dahl, which was excellent just before bedtime to switch off the brain and prepare for sleepy town. Especially after an episode of The Code (OMG brutal watching).
I've started Brand Thinking by Debbie Millman, and even though it's fun because I love design, it's also a bit dry at the same time, and not super entertaining. So I'm plodding through the interviews at the moment.
The Sydney Design Guide is just sitting there, I used it when on excursion last year with my Graphic Design students, and not sure why it's on my bedside table still!
The Art of Thinking Clearly by Rolf Dobelli and The Anti 9 to 5 Guide by Michelle Goodman are there, but not high on priority list. To be honest, I'll most likely read The Hunger Games again before I get to them.
So! What's in YOUR book pile? Anything amazing, that you can't put down??
Simply snap a pic or publish a blog post, and link it up below! There's absolutely no deadline, so if you come across this post in 3 years time, please feel free to still join in =)
[inlinkz_linkup id=460420 mode=1]