Feather Dreamcatcher
The Makers' Box for Q2 2015 included the following project for MAY, and it's super easy and fun.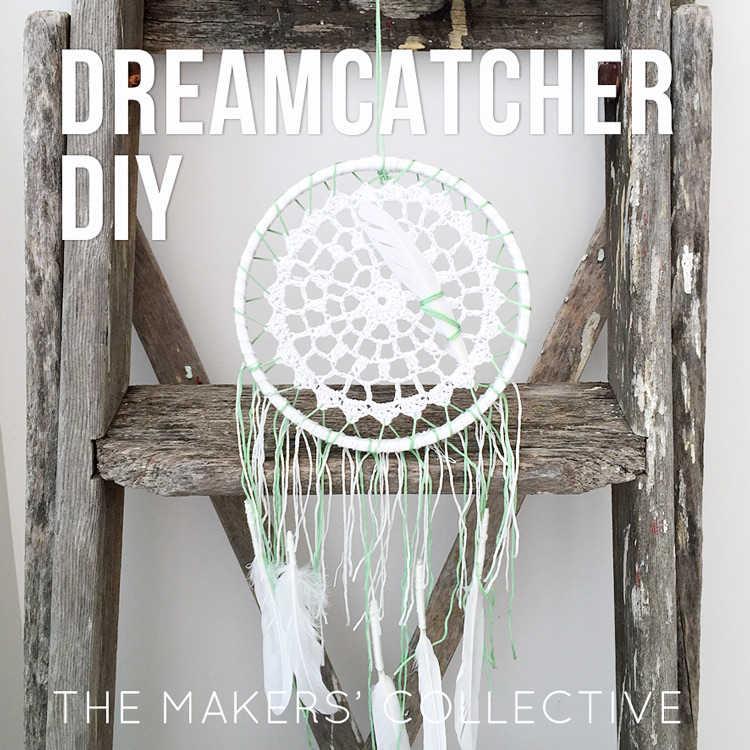 In the box:
✚ Embroidery Hoop
✚ Lace doily
✚ Thread
✚ Needle
✚ Feathers
✚ Cotton Bias Binding
You will need:
✚ Scissors
✚ Patience for lots of knotting!
Optional:
✚ Extra items to decorate your Dreamcatcher, like beads or ribbons

This project is really fun, and you can go as simple or as adorned as you like! Each step gets you closer to a really pretty result, perfect to hang in a window or corner of your home, or a kids room!
Step One: Take the centre embroidery hoop (you can use the second hoop for another project!) and wrap the cotton bias binding all the way around the hoop, securing the end by tying some embroidery thread around it.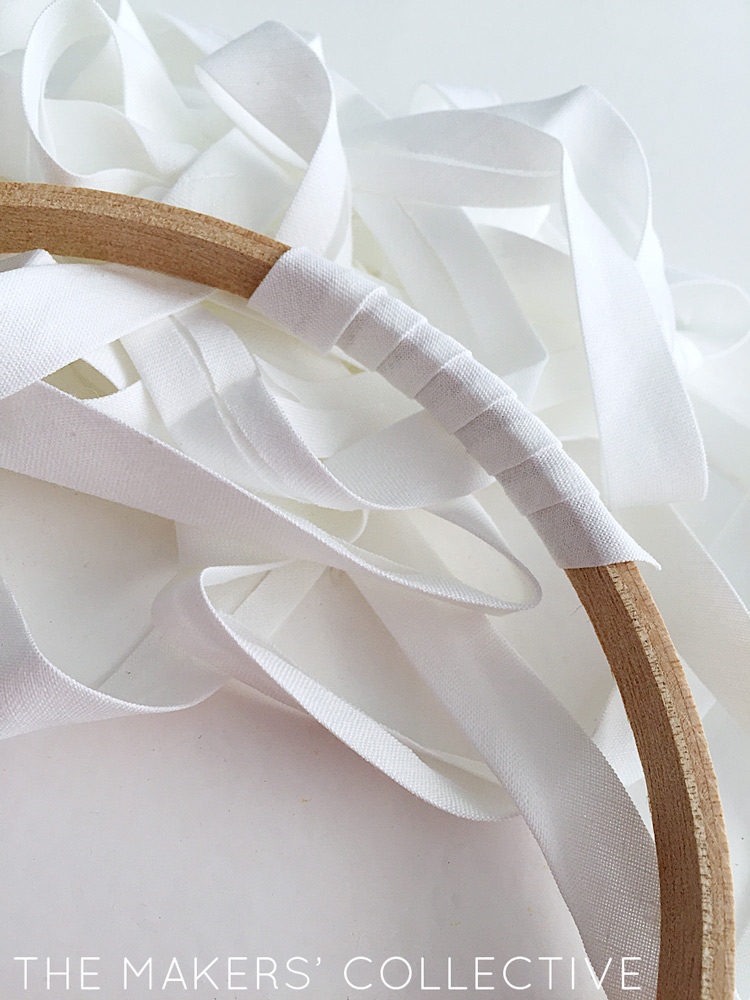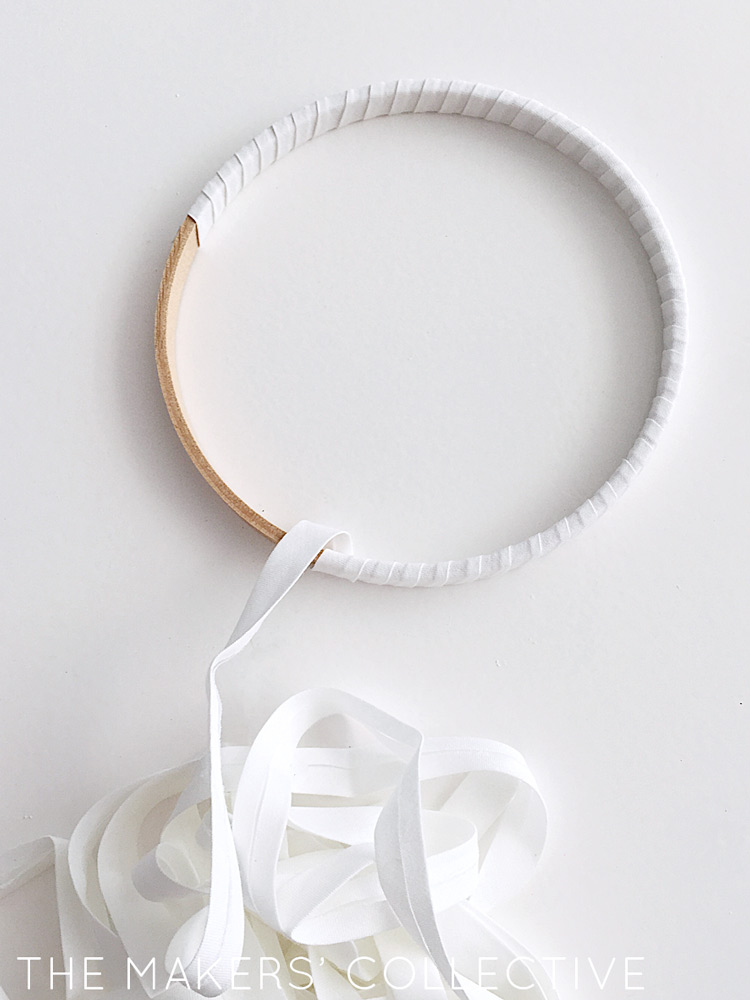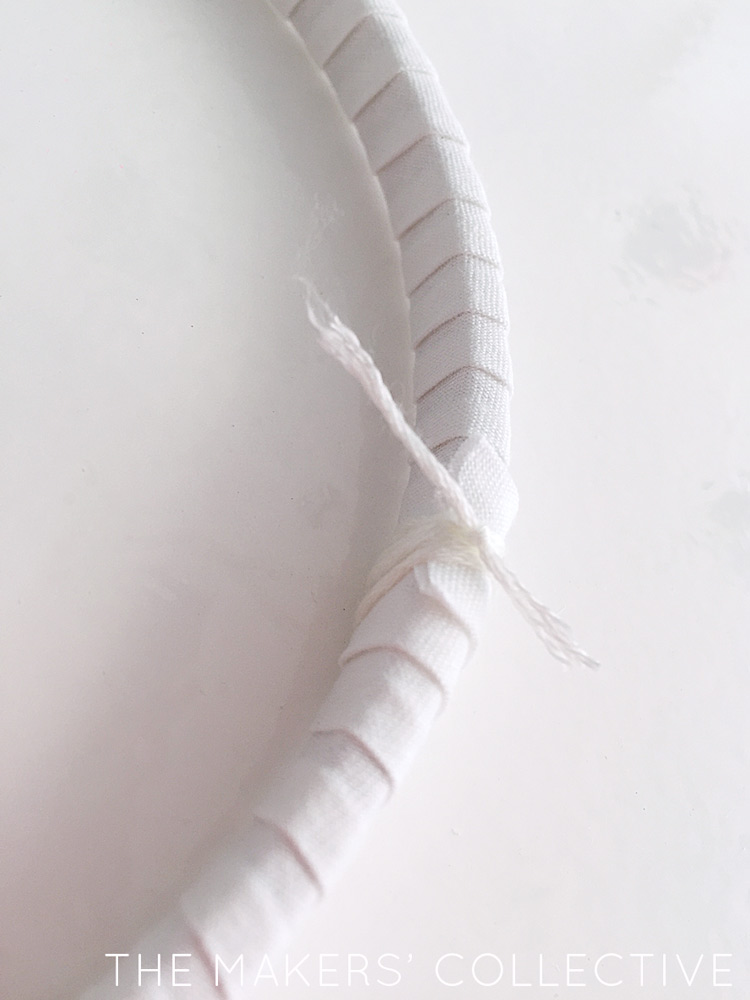 Step Two: Take your choice of embroidery thread colour, and thread through the edges of the doily, around the hoop, and then back through the doily (you can use the needle here to make it easier). Continue around the doily until it is firmly secured, stretched out in the centre on the hoop.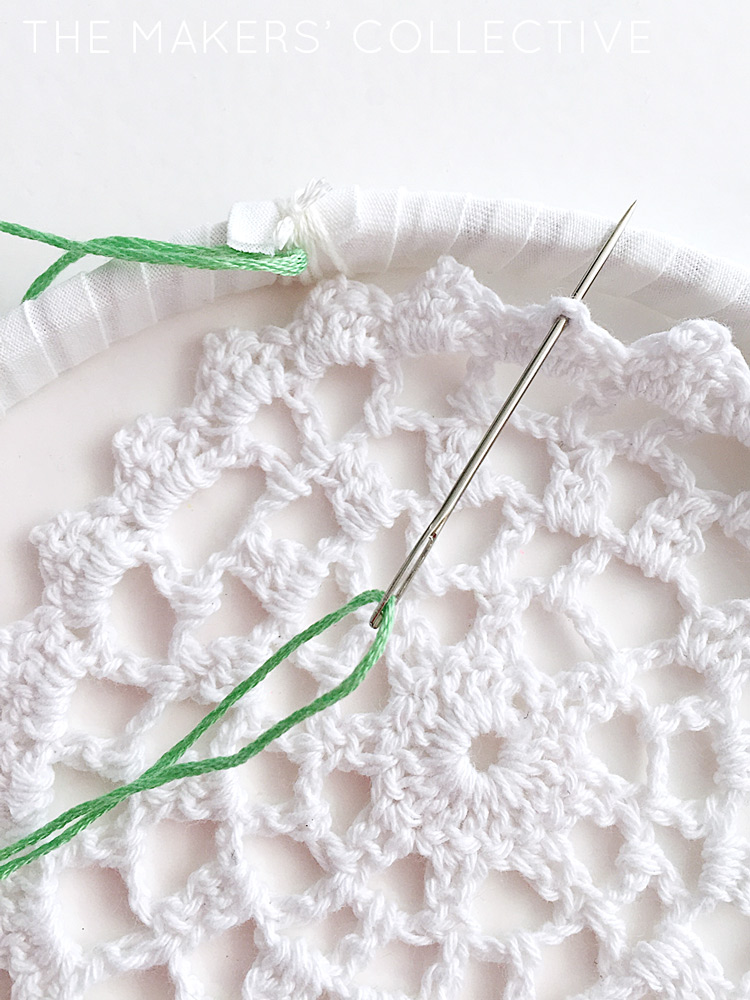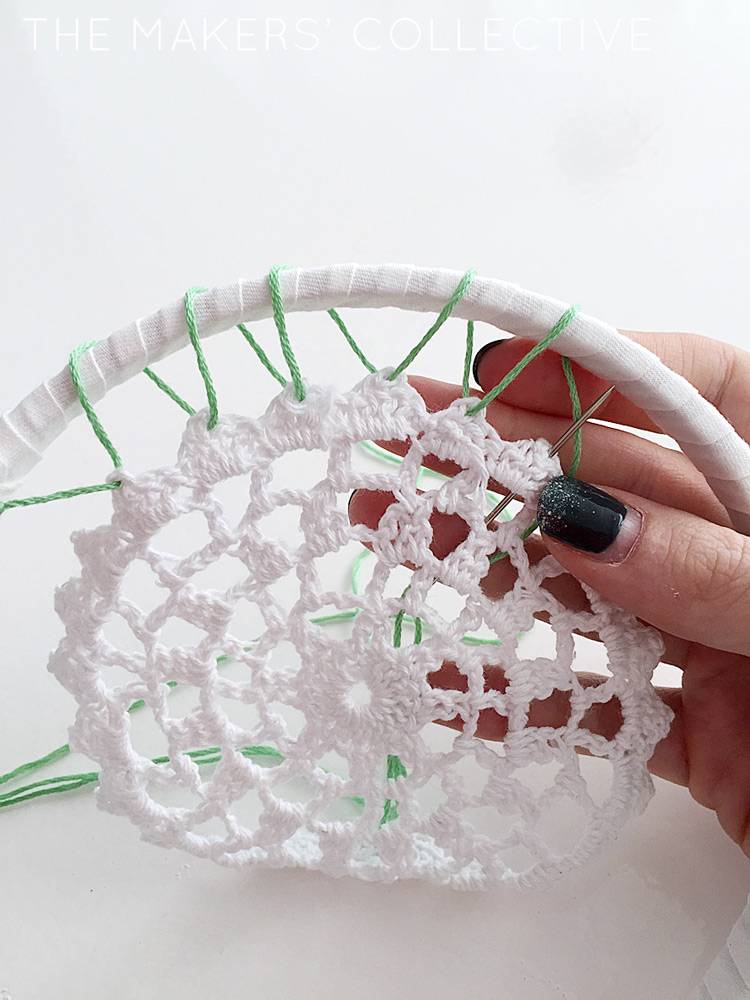 TIP: It can be tricky to get the doily centred while you're doing this step, so don't do it too tight and then you can go around afterward and adjust the thread before tying it off.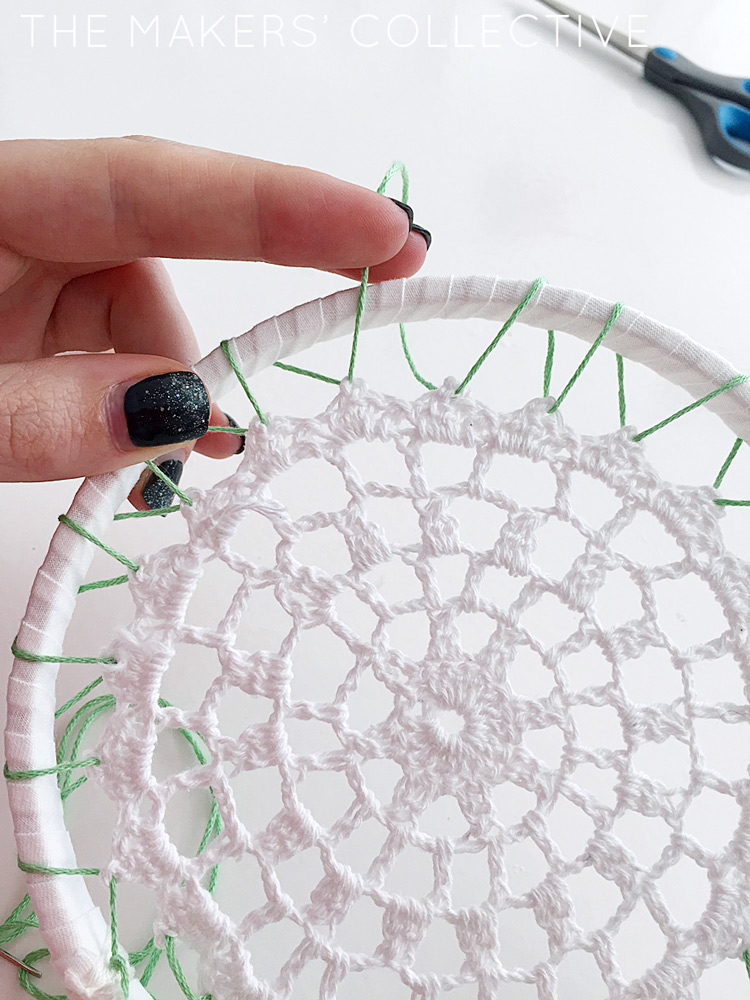 Step Three: Wrap embroidery thread around the end of a feather, tying tightly to secure (make a loop around the feather and then feed back through the loop, then split the thread into 2 threads, wrap back around to the back and tie into a double knot), then tie the other end of the thread to the bottom of the hoop. Don't worry about trimming the ends, just let them hang down. Repeat this for all feathers but one.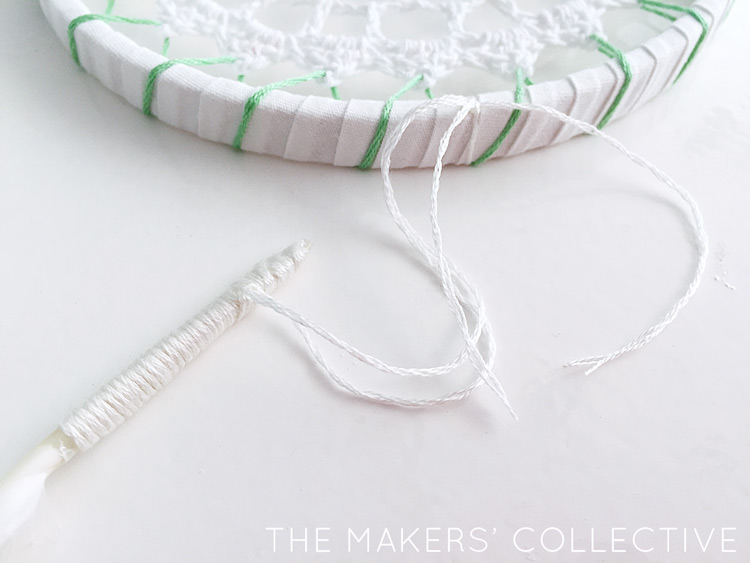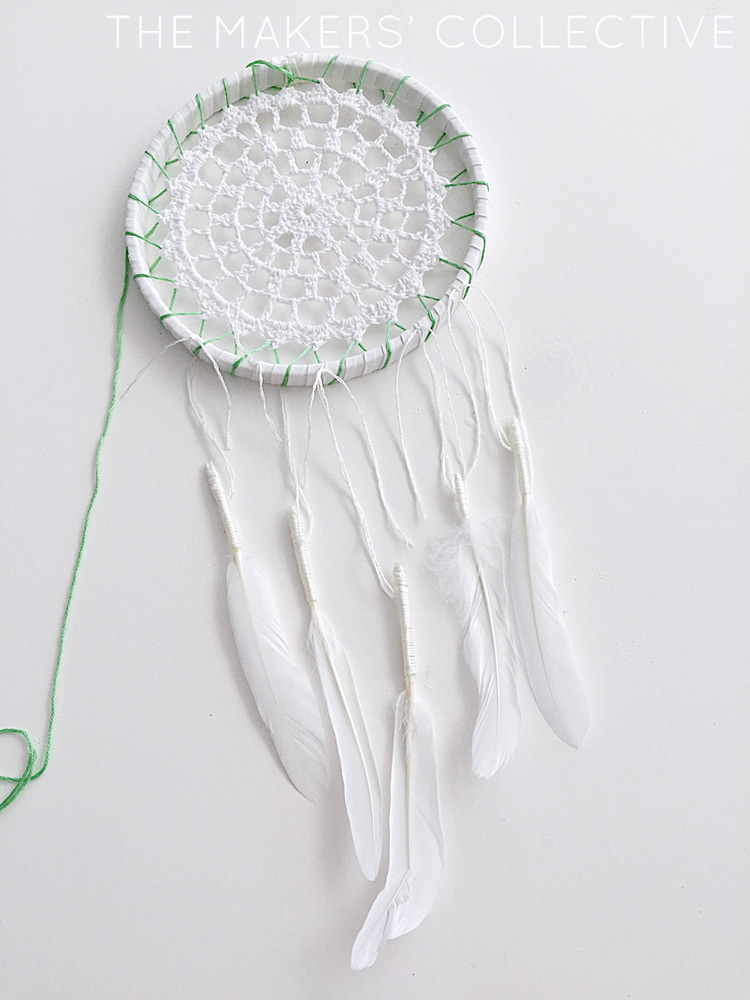 Step Four: Tie some lengths of embroidery thread to the bottom of your hoop also, to hang between the feathers. If you have extra supplies like ribbon or lace, you could also add these here.
Step Five:  Tie the last feather onto the doily in the centre of the hoop. If you have extra supplies like beads, you could also tie these on however you like to decorate your piece.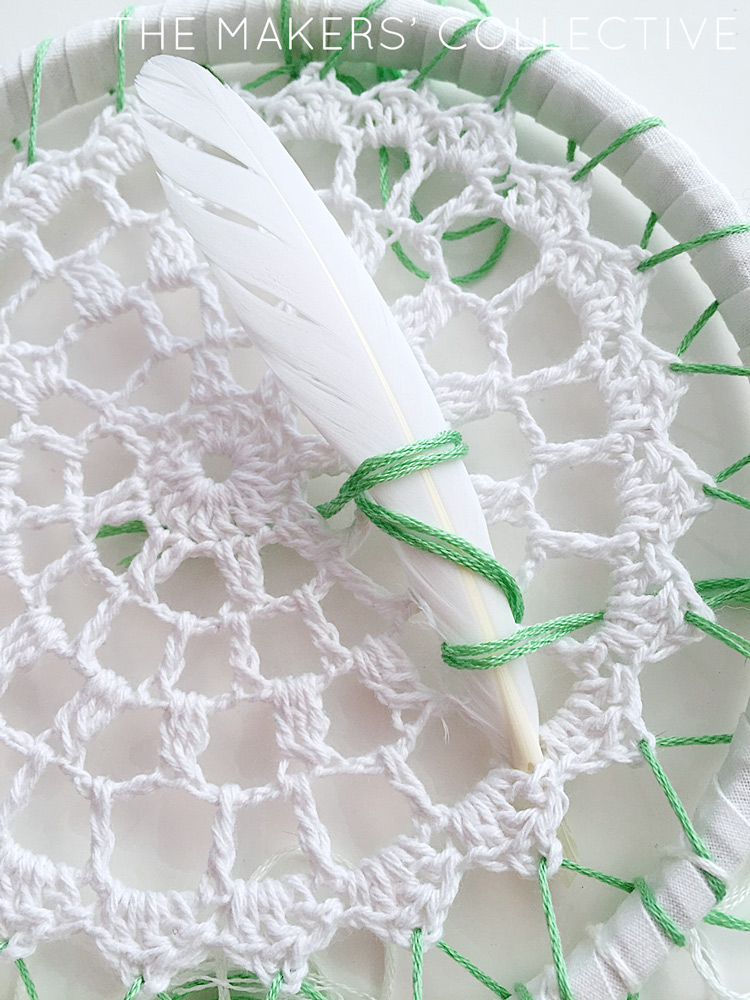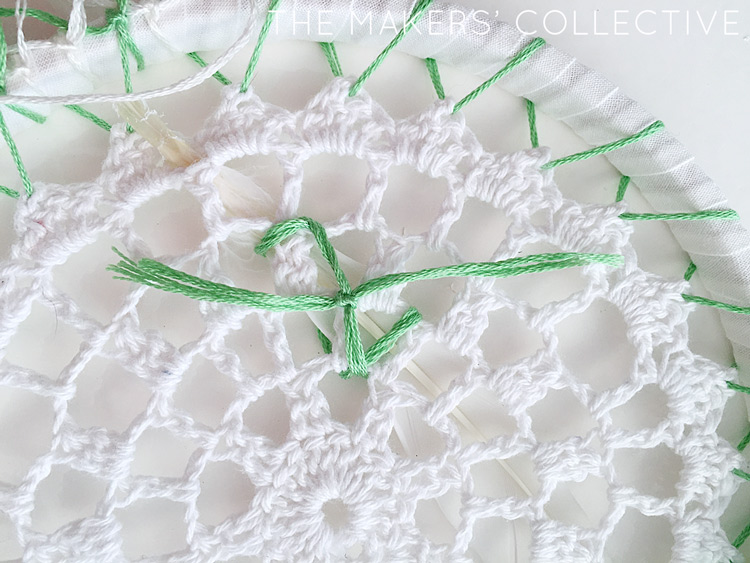 Step Six: Using a length of cotton bias binding (or more embroidery thread), create a loop at the top of the hoop so you can hang your Dreamcatcher from your wall or ceiling, or in a window.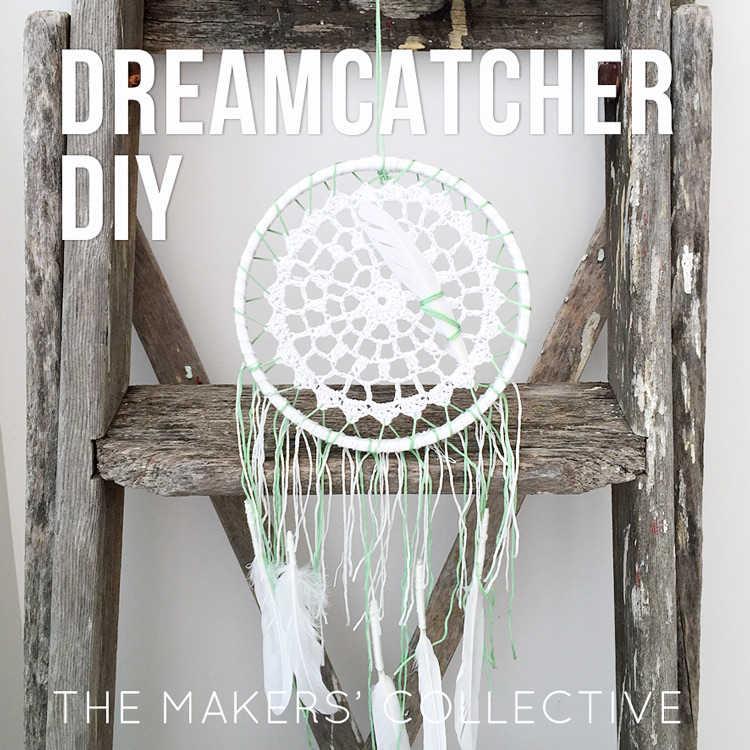 Step Seven: Snap a photo of your creation and post on Instagram, tagging #themakersbox and @themakers.collective, or post straight to our Facebook Page! We'd love to see what you create =)
Optional: Use the remaining embroidery thread and second hoop to create another Dreamcatcher, this time using traditional weaving techniques. Check out our round-up of weaving technique tutorials to get you started!