I've been following Tinkerlab on Facebook for a good while now (I recommend you do, too!) and love pretty much everything Rachelle shares on a daily basis. If you're not familiar with Tinkerlab, make sure to jump on over to the website and check it out, so much awesome!
So last week Rachelle posted in Instagram about #TinkerSketch, a Daily Sketchbook Challenge, and I was immediately pumped about it. I feel like I really need something to get the creative muscle pumping on a daily basis (you would think running The Makers' Collective would give me my fill, but most of my days are filled with business-y stuff, admin, emails, workshop development and more, which is all super fun but doesn't get me making all much with my hands), and this has just come along at the perfect moment =)
You can read all about the challenge here on the Tinkerlab blog (sounds rad, right??), and I'll be doing my very best to post my sketches on Instagram each day, as well as posting a round-up of them each week.
If you want to join in too, here are the daily prompts for the month: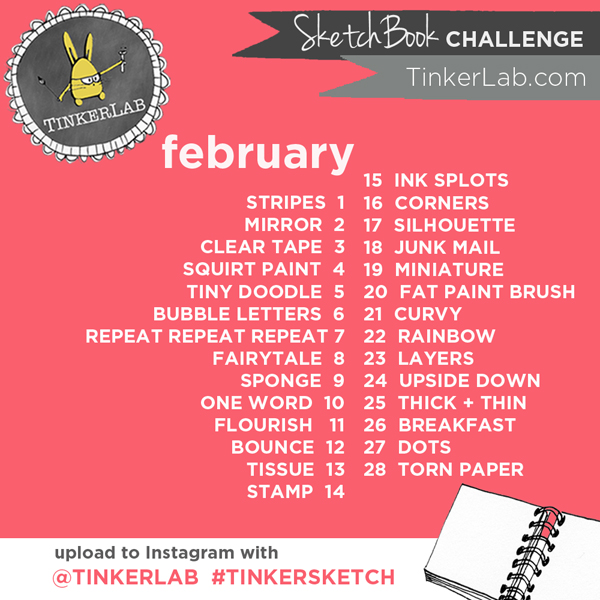 This is for everyone, truly, and you are not expected to make a masterpiece with this practice. Rather, the point is to unleash your creative energy. Your creations don't have to be works of amazing art, and in fact they probably shouldn't be all that spectacular, especially if you're pushing yourself to try something new, experiment, and be bold. Be confident with whatever you create, knowing that you're on a journey to feed your creativity.
Love love LOVE.
I'm off to draw. See you on the flip side!