I'd like to take a moment to announce our brand-spanking-new MAKING TEAM for 2015! I am SO pumped to have these ladies on board, and am really excited for you to meet them, learn more about what they do, check out their blogs and see what they have in store for us this year =)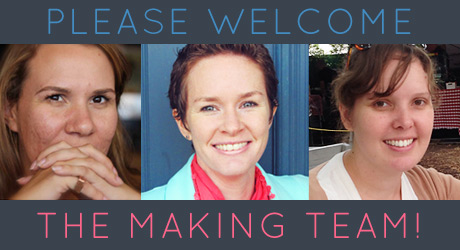 I also want to say thank you to everyone who applied to be on the team, honestly it was a very difficult process to whittle it down to just 3, as everyone sounded so awesome and fun!
The role of The Making Team in 2015 will be to share our Makers' Box projects with the world each month, along with participating in regular mini-challenges and contributing to MAKERS magazine.
So without further ado, I present to you Grace, Natalie and Bron! =)
---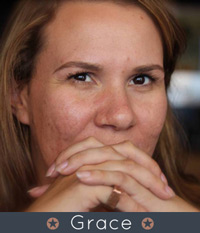 Grace
Grace Bryant is a children's writer and budding illustrator. She aspires to create spaces in which the imagination can thrive, to inspire others to make a little space for creativity and to encourage everyone to rediscover the joy of just drawing for the sake of drawing.
Grace is a proud Canberran and will go to great lengths to convince CBR-haters otherwise. She divides her time between writing, exploring illustration, crochet, swing dancing, yoga, crafting, tea drinking, teaching and working in higher education. She describes herself as whimsically pragmatic, or as a practical daydreamer.
In 2015, Grace plans to stretch (and possibly burst) her creative seams and to have a darn good time doing just that. Pun intended! And yes, she'd probably like to be your friend, so why not peruse her contact points below?
---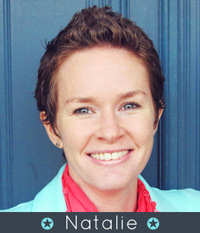 Natalie
Hello, I'm Natalie and I live in the city that boasts all four seasons in a day; Melbourne. I'm married to The Trophy Husband and have two beautiful girls, Bethany (8) and Moriah (5). We're expecting our first son to join us in March and we couldn't be more excited! I'm currently a full time Obstetrician and Gynaecologist, but am looking forward to some time off to become a stay-at-home Mum again.
My main crafty interests have revolved around papercraft for about 6 years now, and I'm heavily involved in the scrapbooking and cardmaking scene. I currently design for Studio Calico and Jot Magazine and am published regularly in the print magazines as well. I'm super excited to now be able to say I'm part of The Makers' Collective and I can't wait to expand my creative wings to whatever Mikaela's got in store for us in those mystery Makers' Boxes!!
You can find me regularly in any of these places:
---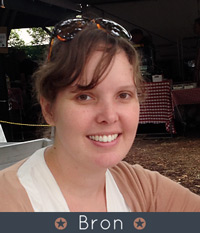 Bron
I'm Bron, a newish mum living in Canberra with my partner, daughter and two kitties. I can't remember ever not making things – I'm so grateful to my mum for always having the time, patience and imagination to introduce and encourage all kinds of crafty pursuits. My main 'every day' crafts are sewing (including quilting), knitting and cross stitch, but I'll take any excuse to play with paper craft (stamps and punches and glue, oh my!) and I love love love to try new things!
Come along for the ride by following me on my blog or Instagram:
---
Please check them out and say hello in the comments!