It's hard to believe that one short year ago I was prepping like a mad woman getting The Makers' Hub ready for it's Grand Opening. A lot of blood, sweat and tears went into the fit-out of The Hub in February and March last year, with us taking a DIY approach to everything (of course), including laying the floors, building the furniture (with some help from some amazing volunteers during our working bee!), building and installing the kitchen (who knew that was even possible, I have the best husband ever) and doing all the interior styling and decoration.
The Hub has evolved over the past 12 months, with the physical space undergoing a few upgrades, layout configurations, and the never-ending battle of how to store everything we have (craft supplies, workshop materials, equipment and other resources) in a neat, orderly and efficient way (ha!). I have also spent the year working on exactly how to run the space to benefit our members and the core team at The Makers' Collective. It's definitely been a work in progress with some trial and error, but I feel like we've come to a good place now with all the services we offer, and can't wait to start rolling out some of the extra perks I have in store.
Over the last year we've also held some amazing workshops, ranging from arts and crafts, to business, to design, and I'm really happy to say along with offering these all again in 2015, there'll also be a whole new range of workshops on offer, along with more options for venue hire and private parties. We want to get as many people in to The Hub as possible, using the space for it's intended purpose.
Connect. Create. Learn. Grow.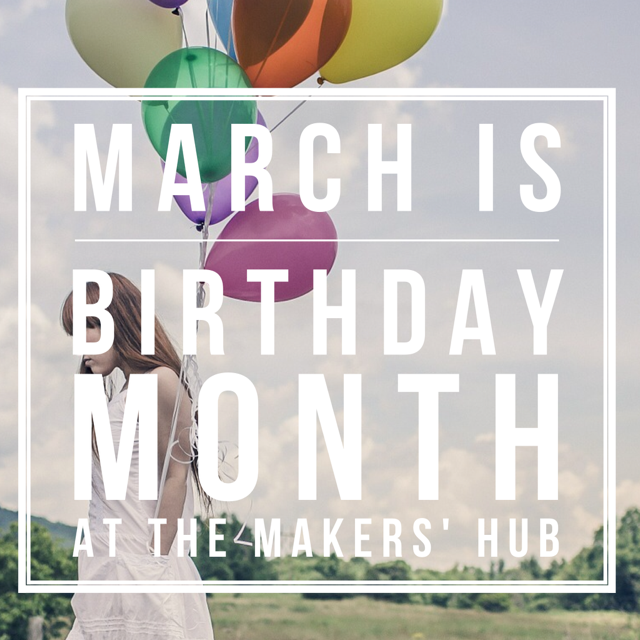 So to celebrate the year we've had and to welcome in the next 12 months of awesomeness, we're doing BIRTHDAY MONTH right, with 4 weeks of giveaways, a magazine launch, and a big PARTY!
The giveaways will start on the Monday of each week and run through until Friday, with 2 giveaways per week (one for locals to pick up, and one for interstate/worldwide peeps). Details will be on the Blog each Monday and will be shared to all our social media accounts, so keep your eyes peeled =)
The PARTY is on Tuesday 24th March, and you're invited: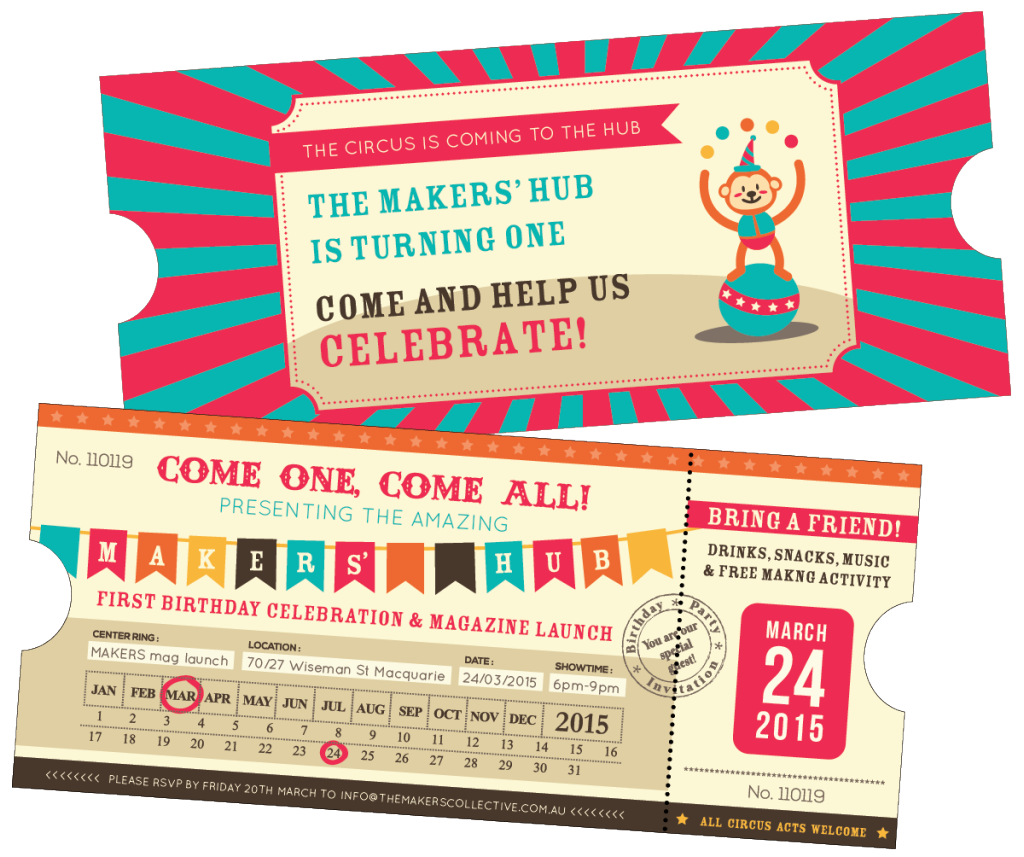 The following awesome things will be taking place:
✪ MAKERS magazine launch ✪
✪ Cupcakes & other delicious snacks for your noms ✪
✪ Drinks on arrival to keep you hydrated and happy ✪
✪ Music in your ear holes for good hip shaking times ✪
✪ A free MAKING activity because that's how we roll ✪
Tickets are limited to 40 because The Hub is a boutique (read: not massive but super special) space, so get your FREE tickets early and we'll see you there =)
I'd love to hear what experience you have had in The Makers' Hub this past year, have you come to a workshop? Had a private party? Or just come in for a little looksie? Please let me know in the comments! ♥︎