We're finally making some progress on the DIY Nursery Makeover! Lucky, because bub #2 only has about 6 weeks left before it makes it's grand arrival (though really, s/he will be in our room for a while anyway so there's no huge rush).
You can see the progress we've made so far in Part One and Part Two of the Nursery Makeover series here on the blog… I can't believe how much of a difference a few coats of paint can make! I'm pretty sure I say that every time I paint a room though =P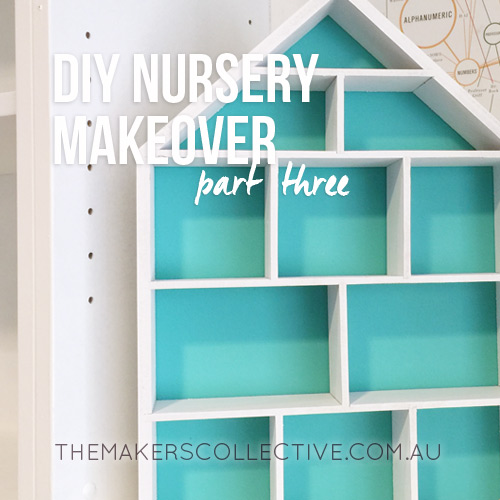 In Part Two of the nursery makeover, all I'd really accomplished was clearing a lot of junk out of the room, and doing one coat of undercoat on the dark wall under the built-in shelving (which, by the way, is no longer being wall-papered, I have new plans for that one!).
So. It was definitely time to get some actual work done, and off to Bunnings we went to gather some extra supplies.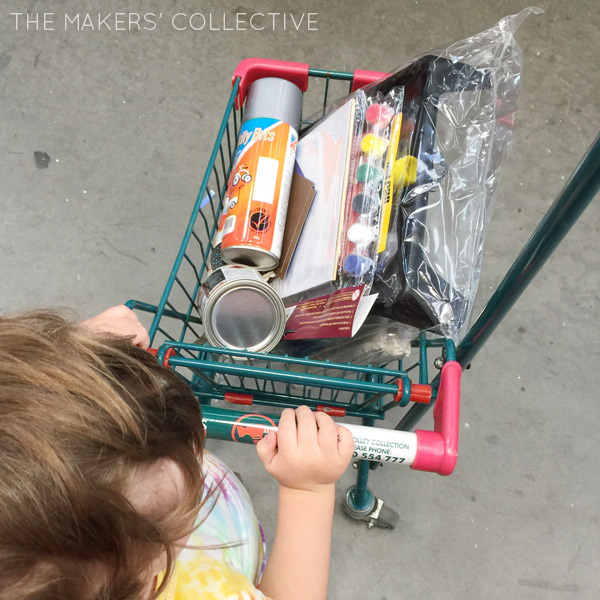 I picked up a small sample pot in this lovely Mint colour (Dulux Magnetic Magic) to add the accent colour to a few select items in the room. I think it cost about $5 and will be plenty.
My tip for choosing colours? Just bloody well pick one and go with it.
Having all those hundreds of shades in front of you on the colour swatches wall can make you go insane. #JFDI (just effing do it). You are not going to be comparing the shade to anything once it's on the thing you're painting except what else is in the room. And if it's horribly wrong, you can always paint it again. Don't stress the small stuff people! There's more important things to worry about!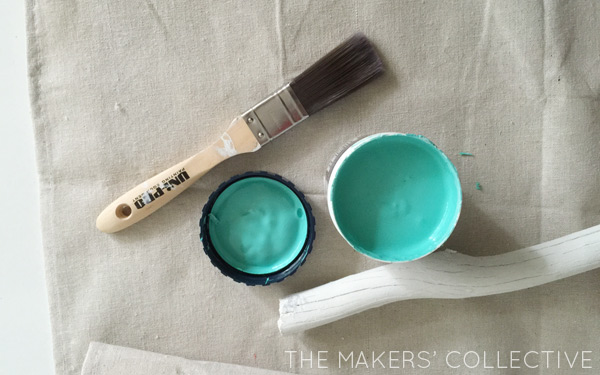 Two walls of the room were only half painted, as there used to be more cabinetry at the bottom and when we removed it, obviously the original wall colour was behind it. So first up was re-painting those areas. Many people might take those pictures down, wash the walls, and re-paint the whole thing to get it all even and such.
Nah. (#JFDI)
I had just enough paint left over in the (two, three year old?) tin to do 2 coats on the areas that needed it, and used the roller to blend the new paint up the wall with the old. Pretty sure NO ONE is going to be able to tell I haven't re-done the whole wall (except you guys… shhh). Especially as the crib will be going there, so it will hide any imperfections anyway! 😉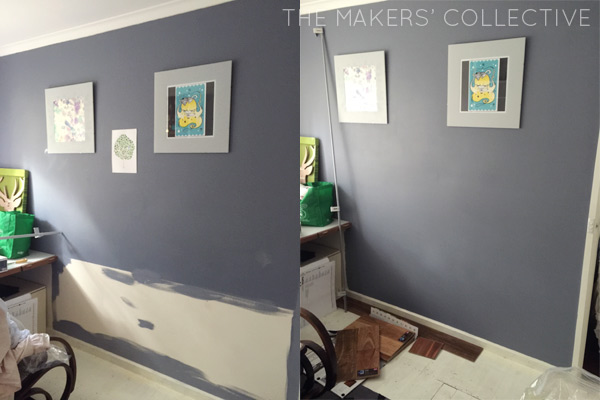 The shelves, my gosh. I always thought the wood was a light honey colour, but after seeing the difference the white paint has made on them, they were SO DARK.
We did two coats of primer and so far only one coat of enamel, I'll be doing a second coat of enamel on the cabinet top but decided to leave the shelves as-is, because they look pretty good and will be filled with stuff anyway (again, hiding any imperfections… winner).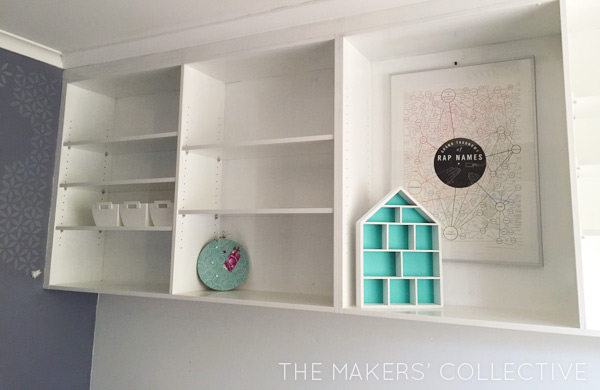 That little shadow box house is getting a DIY makeover post of it's own, keep an eye out next week for it! 
The window end of the room I haven't shown too much of, it's going to be my little hobby work-station to play with jewellery and what-not while I'm off work with the baby (if I get any down-time when I'm not super tired myself, fingers crossed).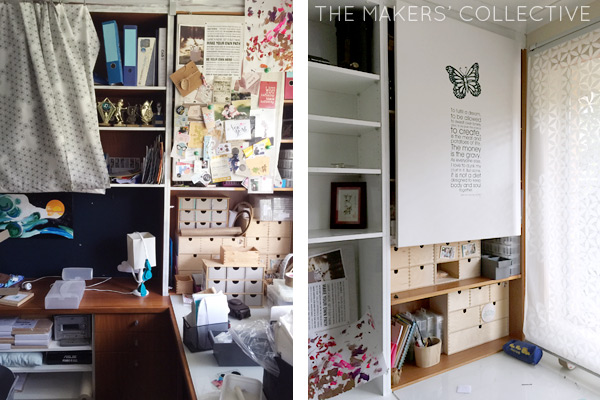 I've also been spying some very cute mint coloured items around the place (Kmart mostly) that would tie in nicely with the decor, but am resisting the urge to buy anything until I have the bulk of the other stuff done. Mostly because there's nowhere to put it in the mean-time, but also because we already have a LOT of stuff, and I'm trying to minimalise!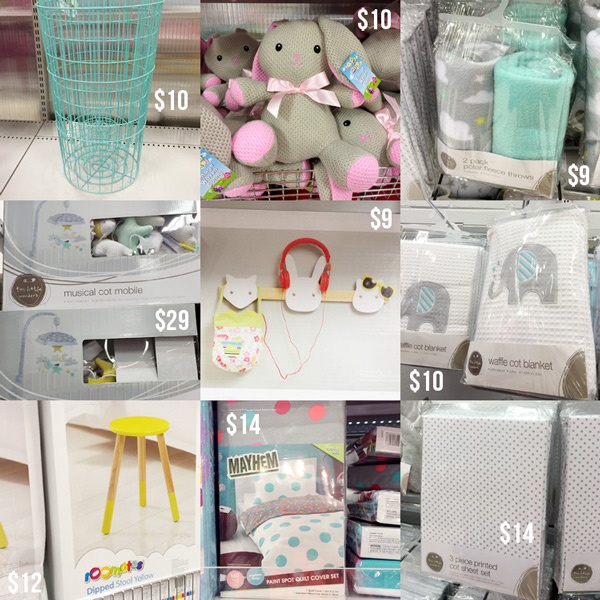 The other major thing we need to decide on is flooring. The idea is to do the relatively small area of the nursery now (to make sure we love the colour), and do the entire house later down the track. We're looking at laminate for longevity (dogs, cats, babies etc) and price. We're tossing up between a faux Spotted Gum and a faux Blackbutt, both Quick-Step through Premium Floors. I think I like the colour of the Blackbutt (a bit lighter), but I also *really* like the super gloss of the Spotted Gum from Bunnings, which is a thinner board and also quite dark.
So hard to choose (#jfdi Mikaela….)!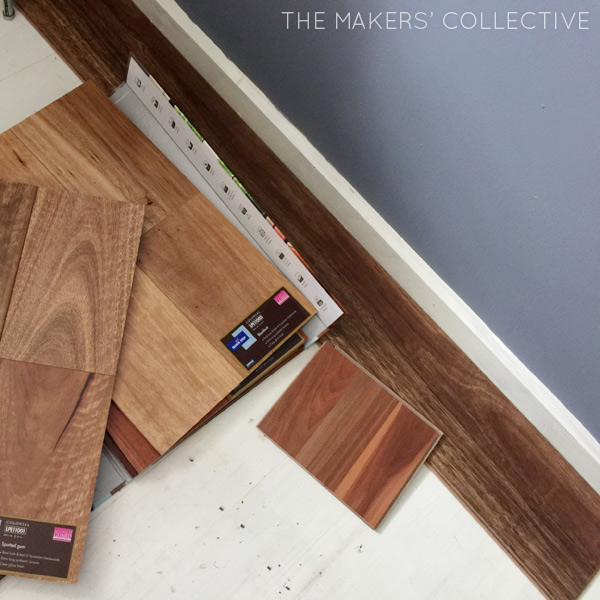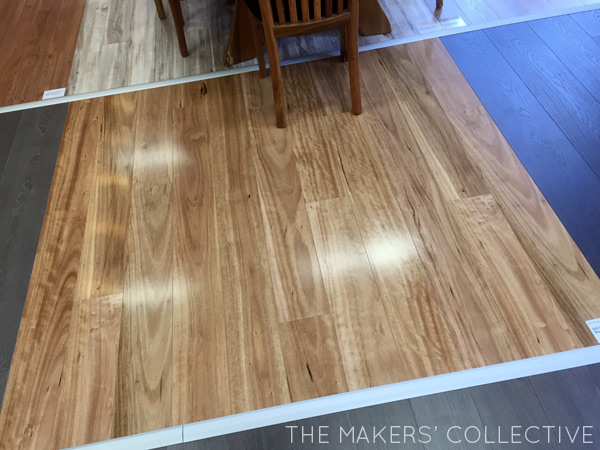 So! Next up on the to-do list:
Choose, order & lay floors
Get containers for shelving
Spray-paint bucket things to go on rail above change table
Re-paint mirror frame back to white (the mint looks no good against the blue/grey wall!)
Paint second coat on stick and hang
Sew curtains for cabinets
And a bunch of other stuff I don't want to think about just yet because that's way too many things to do still! Wish me luck 😉