These lights are perfect for party decorating or just for fun in your home!
I was inspired by a pic we posted a few months ago originally by Liz from Say Yes to make some party lights for The Makers' Hub. This project honestly took only about 5 minutes to complete (once I had the supplies), and is SUPER EASY (pretty sure it's going to take me far longer to actually write and post the tutorial!), so definitely give it a try if you want to pretty up a small corner of your home =)

Hover and Pin that ⤴︎
You will need:
Ping Pong Balls – $4 for a pack of 12 from my local dollar store
LED string lights – also $4 from my local dollar store, I got the battery operated kind for portability, so I also needed:
2 AA Batteries
Craft knife
It is really important you use LED lights and not regular bulb lights that can overheat and cause your ping-pong balls to catch on fire. LED lights don't heat up and will be safe for this project.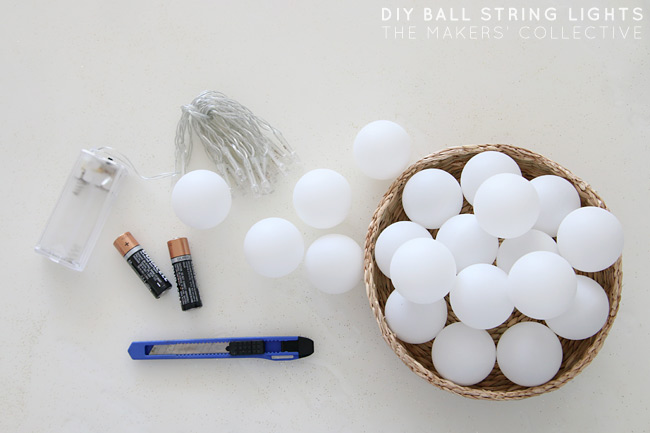 Hover and Pin that ⤴︎
Step One:
(I have marked a cross here for you to see clearly how to cut each ball, but you don't need to mark each one)
Using your craft knife, carefully make 2 incisions into each ping-pong ball. You don't want to made the cuts too long or the balls will end up falling off your lights.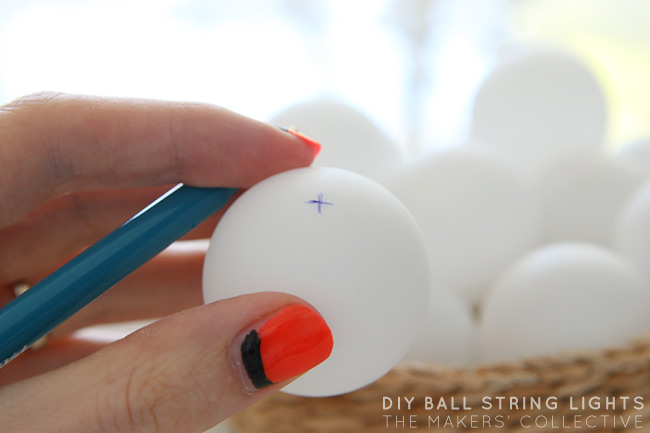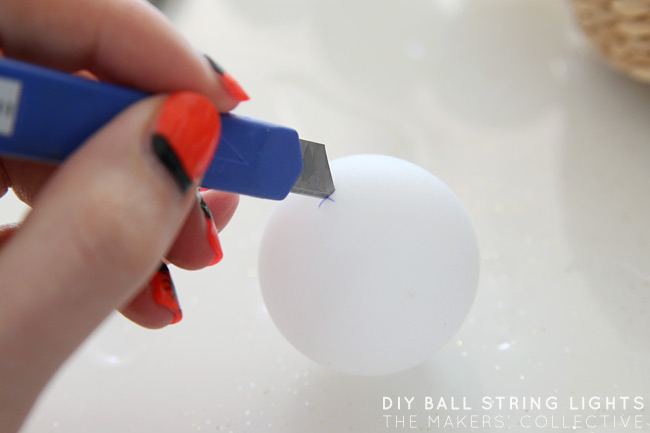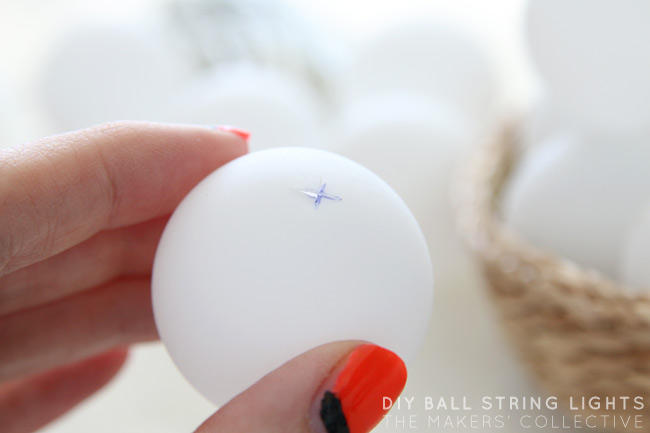 Step Two:
Insert a bulb of the LED string lights into each ball. Wiggle it in but be careful when handling the wires, you don't want them to come loose front he bulb.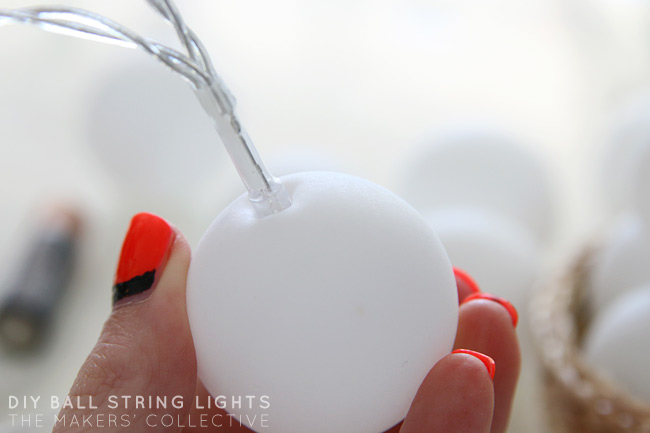 I pushed my bulbs right into each ball to the wire, I think this helps to secure them (pushed right in on the left, not far enough in on the right).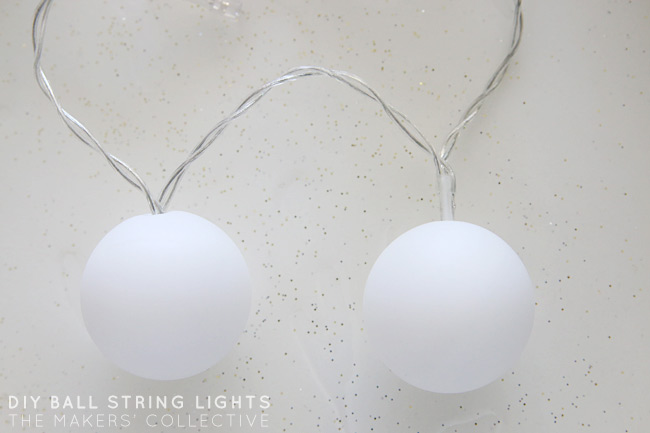 Step Three:
You're done! How easy is that?!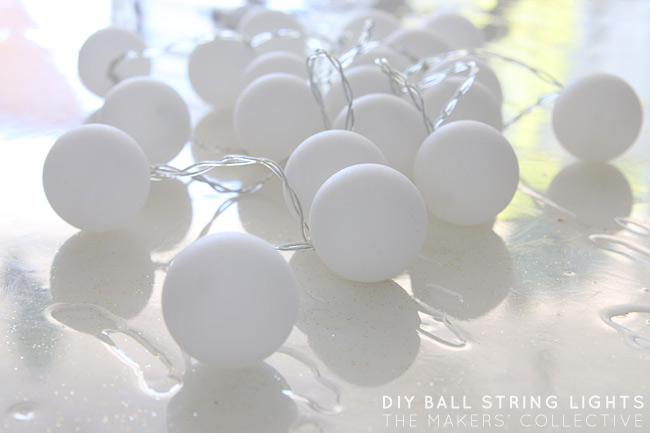 Pop your batteries in and see how pretty your new ball string lights are =)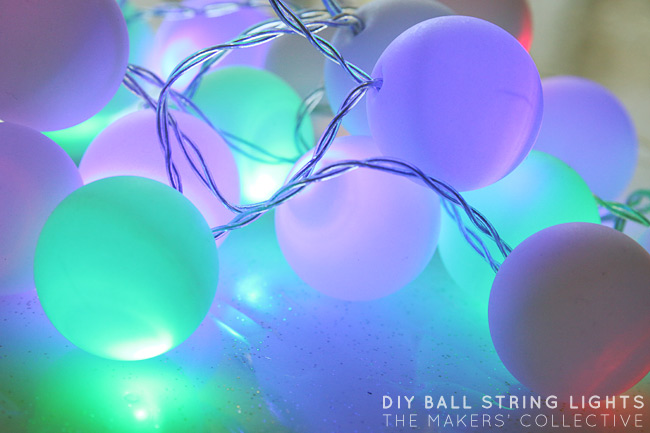 Hang your lights wherever you please (of course these are are several risks with these to little kiddies, so be wary of nurseries/above cribs etc), stand back and admire your handiwork!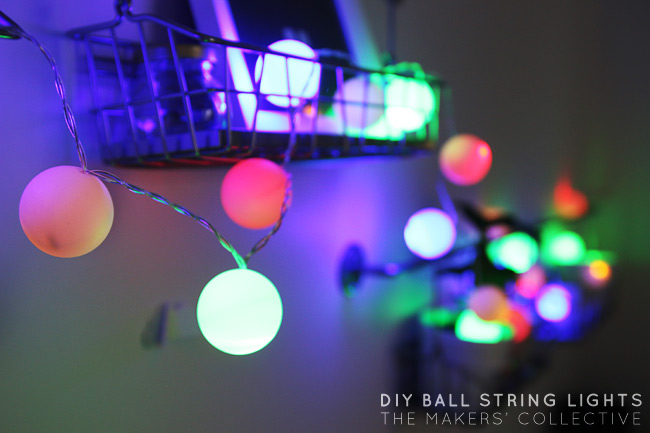 Please do have a go, and let me know how they turn out! =)