I'm loving going through all my wedding posts from my personal blog and re-posting my DIY Wedding, reliving how fun it was to put it all together! Today's DIY Bride post is a tutorial on how to make your own wedding place cards for under 3c each. This was originally posted on my personal blog, mikaeladanvers.com.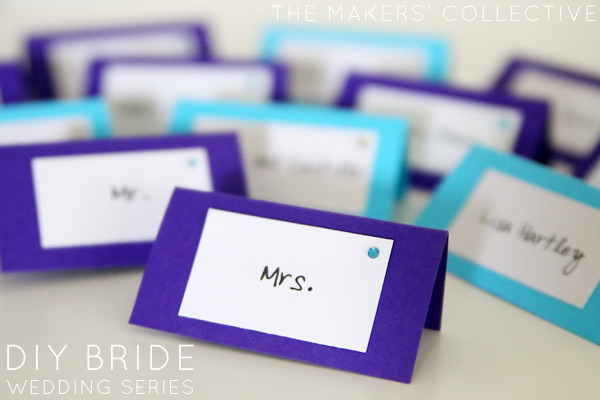 I wanted quite simple place cards for the guests at our wedding, just simply a folded card with their name printed on it. I looked around everywhere online to find some pre-cut cards, but the prices were extraordinary! The cheapest I could find went for 70c a piece, and then I needed to buy more paper to print the names on and double sided tape etc etc… it would have ended up costing around $70 just for some little pieces of cardboard!
Then of course my brain kicked in and I realised these would be *so* easy to make, and I'm going to share with you how to do it. Honestly these are so easy even the most un-crafty / un-creative person can do it, and it's a cinch to make them more traditional than mine or add other creative elements.
What you need:
Rotary slicer or metal ruler & craft knife (or scissors and patience)
Sheets of cardboard
Paper/Card to print on
Printer
Optional embellishments
How long?
One evening in front of the TV
How to do it:
Step 1: Go to your local newsagents or paper/art store and buy some sheets of cardboard, which in Canberra Newsagents retail for 20c per A4 sheet (in your wedding accent colour). I chose to use a deep purple and bright blue, but you could just as easily get an Ivory or White/Black for a more traditional wedding, or get Silver or Gold for a slightly higher cost.
Step 2: Take your rotary slicer or knife and ruler and cut the paper into squares/rectangles of about 6cm x 6cm (you can be exact here but I honestly don't think you need to be, just get it done! No one will notice if they are a few mm different in sizes).
Step 3: Score each square down just past the centre with a knife and ruler (scoring should just mark one side of the card and not cut through – this makes them easier to fold), and fold each one.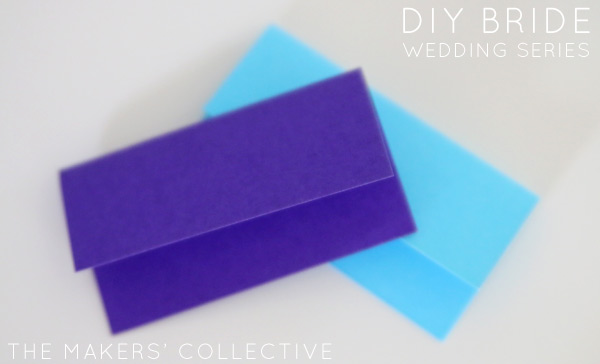 Making the fold off-centre helps the name side to sit a little flatter and face upwards, so people can see them from a better angle while they are walking around looking for their seats.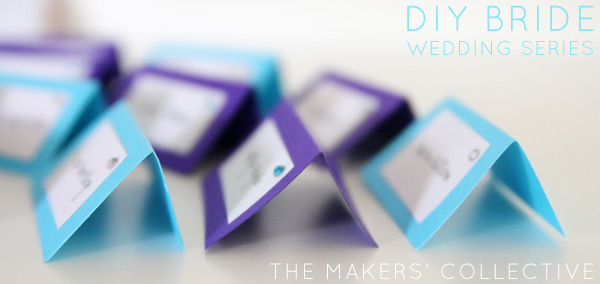 Step 4: In word (or similar) set up a new document and simply type everyone's names, leaving spaces in between each one (creating a table first might be easier for some people). Make sure you choose an appropriate typeface to suit your theme! Print these on a nice paper or card stock (not ordinary 80gsm paper, it can go see-through and look cheap, go for 120gsm minimum), and cut each one out with your rotary slicer or knife. Again no need to make them all exactly the same size, I think it's more important that the edges are straight 😉
Step 5: Use double sided tape to stick each name onto the cards (really efficient and quick, faster than glueing).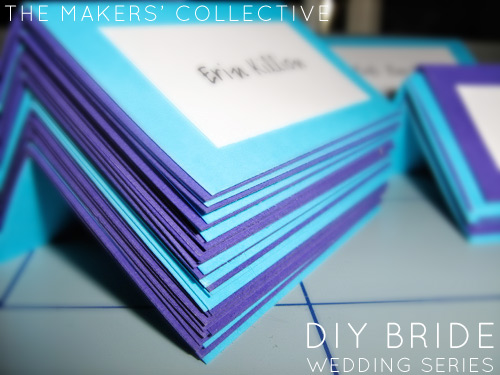 Optional
You can also add simple embellishments to the cards to make them pretty, I stuck some tiny gemstones on mine, but you could also cut squares of specialty japanese rice paper, or flocked damask paper and stick to one side of the name card to tie in with your theme.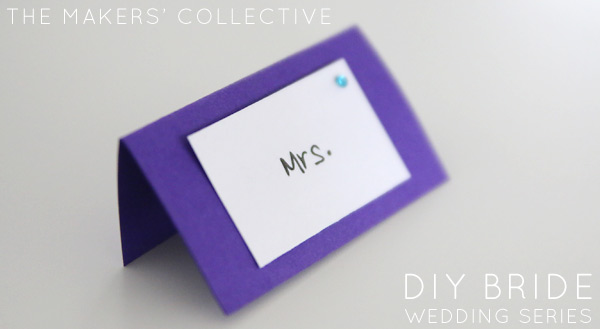 I took these photos today (almost 6 years after the wedding!) so the edges are coming away slightly and they are a little mmis-shapen from being bundled away in a plastic bag for several years, but if you make your place cards a few weeks before the wedding and keep them nice and flat, they will look amazing and shmick on the big day =)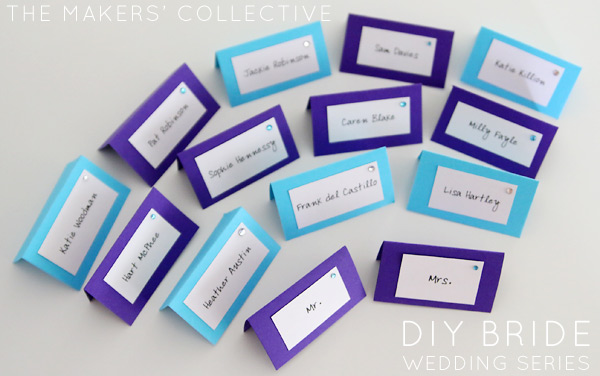 The total cost for making my 85 placecards was $25. And they tied in with my colour scheme and theme perfectly!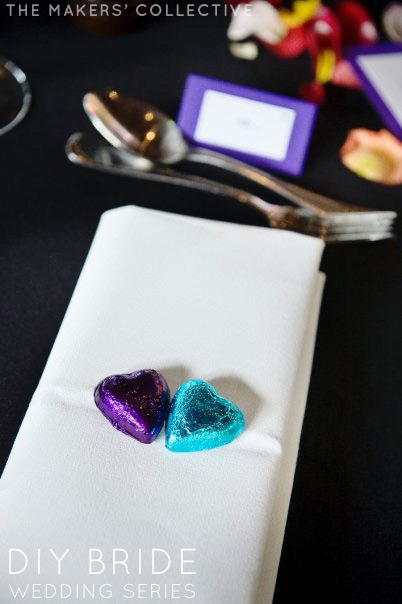 I hope this has inspired you to try it for yourself, save a few dollars to spend on something more fun, and also customise your place cards to suit your wedding theme!