Welcome to part two of my DIY Nursery Makeover Series (you can catch part one here!). This post was supposed to be all about painting the room, but I kind of forgot about having to actually move allllll my old office and workshop junk out of the room first, so this post is more about that process, plus a couple of fun projects I have planned for the room also.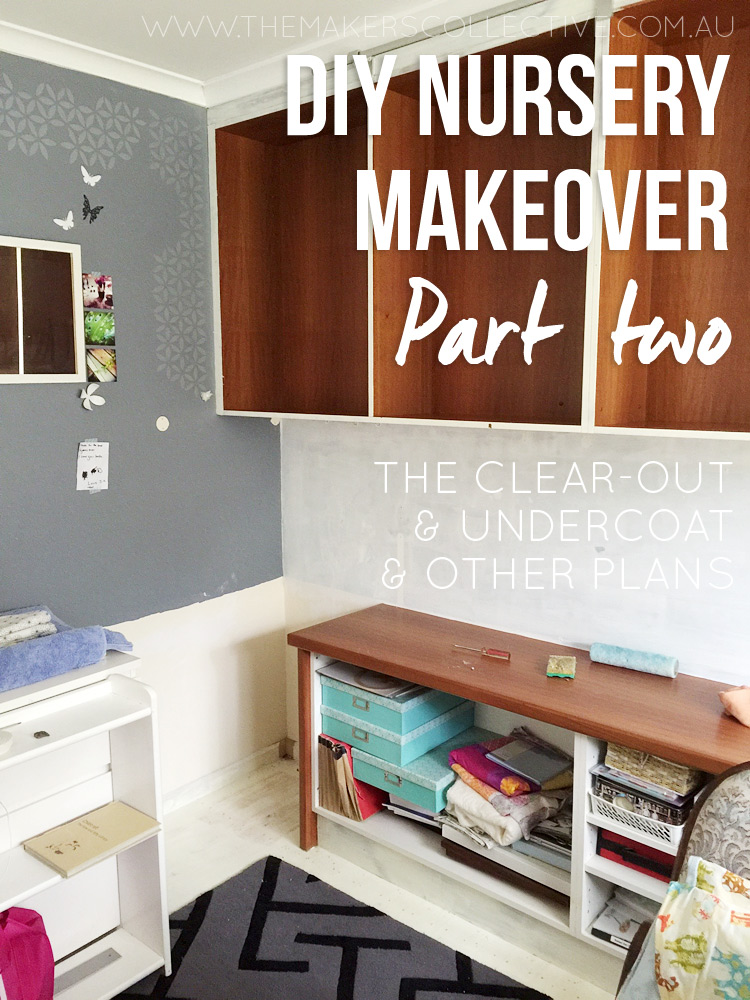 Being several months pregnant already (but refusing to believe I am restricted in any way until I collapse in a heap on the couch with several joints yelling at me) puts a real dampener on doing things quickly. Clearing out these shelves 6 months ago? No biggie! Just climb up, grab everything down, sort, chuck, save. Done.
But now, I have to stop every half on hour to catch my breath, can only lift small things, and am generally a bit useless and slow =P Enter stage left, my amazingly helpful muma, who came around for a whole day and helped me clear out everything from the top shelves in the office. She is a star ✪♥
So we spent the day clearing everything out, I did some sorting and chucking (NO idea how I'm going to fit everything into my little office space in the living room, which is about 1/4 of the size.. more chucking to do I guess!), and by the end of the day I finally managed to get one coat of primer onto the dark wall under the shelves. This is where I am going to try my hand at hanging a small amount of wallpaper, for the first time ever!
The plan now is to finish all the enamel painting (shelves, cabinets and door) in a couple of weeks just before we go to Sydney for 4 days, so it will have time to de-stinkify while we are away.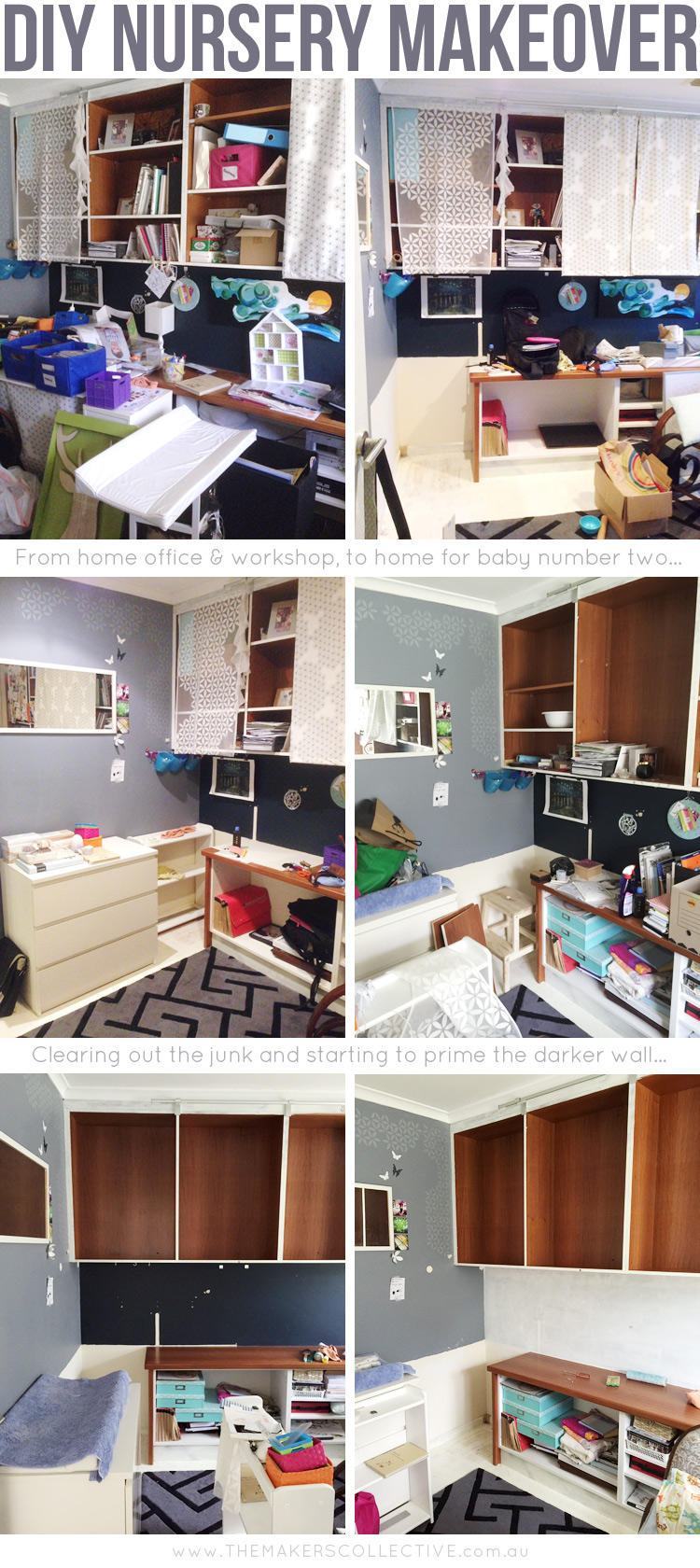 One major part of this DIY Makeover is keeping a lot of the storage space in the room for adult type stuff, like document filing, sewing supplies, old x-rays (?!) and the like. So all of the cabinetry is staying, and instead of re-attaching the doors to the front of them, I will be sewing a cute little curtain that will go all the way along 2 walls, also hiding the under-desk area that will serve as extra storage space.
I also have a few more sewing projects up my sleeve, using these fabrics: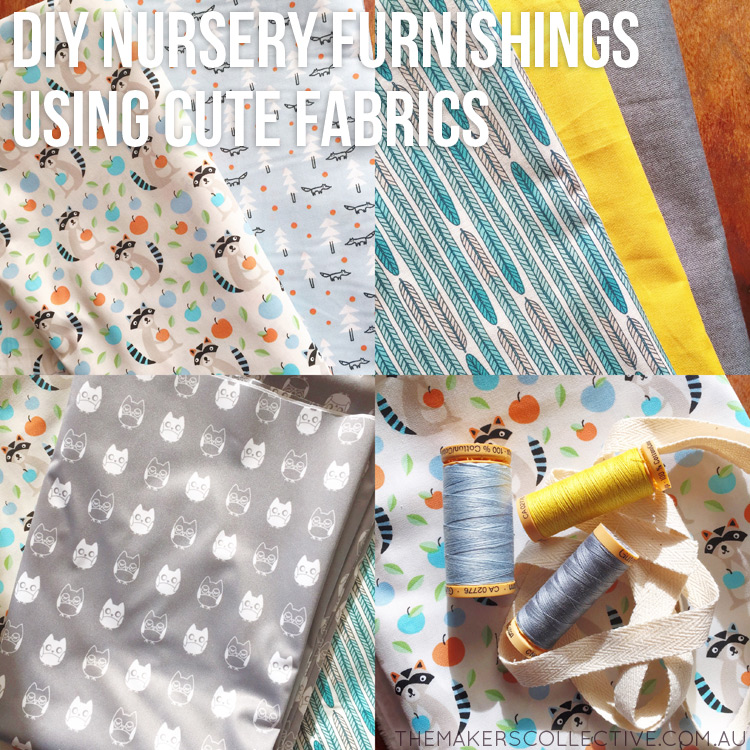 Besides the curtain, I'll be making some cushions for the rocking chair (another makeover project on the cards) and a small floor quilt for bubs to play on. I also remember having to change bassinet sheets a million times a night with Rafael, so this time I've got some waterproof PUL fabric to sew to the back of some old school cloth nappy squares to use as sheet-protectors during the night.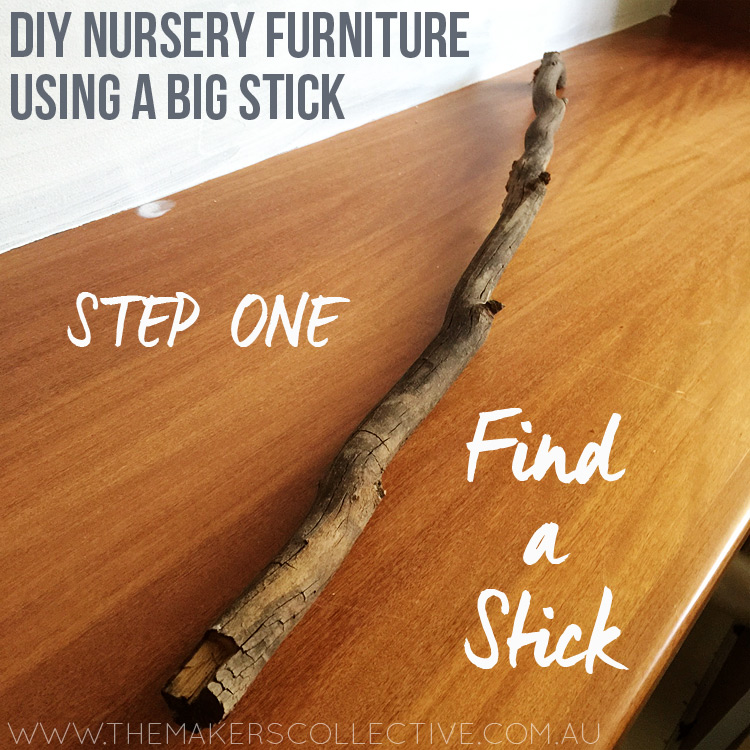 So, this one is going to be fun. And a little random.
Since the Nursery is still doubling up as a bit of an office storage area/workshop-for-me-to-tinker-with-my-jewellery-while-I'm-on-maternity-leave space, there won't actually be a huge amount of wardrobe space for this little munchkin. We have the Ikea Malm Chest of Drawers (doubling as a change table – Best. Idea. Ever.), so the bottom two drawers can hold a bunch of stuff, but I don't think it's quite going to be enough. So this humble stick, is going to be turned into a bit of an art piece, that will be used to hang some cutie-patootie baby outfits. Trust me, it's going to be rad. (I hope).
And that's where we're at right now! Still a looong way to go in this room makeover, but I do think the clearing out is the most tedious and painful part, and since that's pretty much done, I'm ready to get my DIY on!
Have you ever undertaken a big room makeover project before? Please let me know in the comments how you tackled it!