This is the first in a series of posts I will be writing over the next couple of months, documenting our DIY Nursery Makeover for baby #2. Our home is currently 2 bedrooms + 1 study, which we plan to change to 3 bedrooms + all our office stuff in the living room! Hopefully we can make it work. Join me for the ride? =)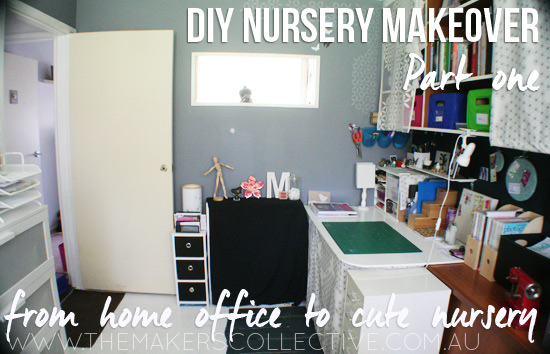 Part Two of this adventure is up now, go check it out!
Baby #2 is cooking away, planning to make an entrance in about 3.5 months or there abouts. This of course means massive nesting tendencies, and massive frustration because I can't lift anything heavy or do much of anything without falling into a heap of knackeredness before I've even begun. Enter stage left, massively awesome husband, who is helping by moving all the furniture around (twice!) and generally being great.
One of the main reasons we bought our house in 2008 was for the great built-in study, which, at the time (pre-marriage, pre-kids, early-career) seemed like a real winner. Unfortunately, in a very short period of time, it became apparent that I have way too much stuff and no matter what I tried, the open shelving was always (and continues to be) my enemy. The room ALWAYS looked messy, even if it was tidied. I eventually did a home office makeover and made it 100% better, but I'm still a messy over-obtainer of stuff, and I'm using this pregnancy nesting phase to cull cull cull.
So this long weekend, we reorganised Rafa's room, switched out some furniture, and made more room for all his play things to get them out of the living room area (this also included sorting ALL his toys, which makes me realise he doesn't need Any. More. Toys. for at least 3 years). On day two, I sorted out the entire study, which was basically being used as a dumping ground for crap until we got our butts into gear and started this project.
Here is a shot of one corner of the office/study, featuring my DIY jewellery making work desk and lots of STUFF: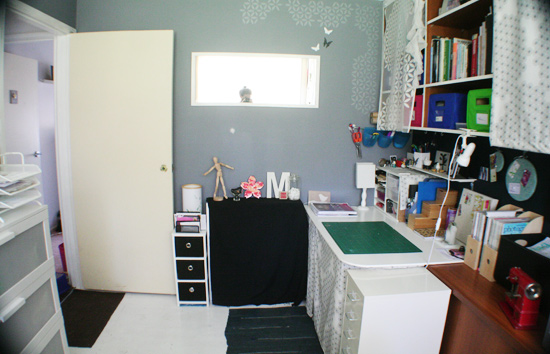 And a shot of the other end of the room: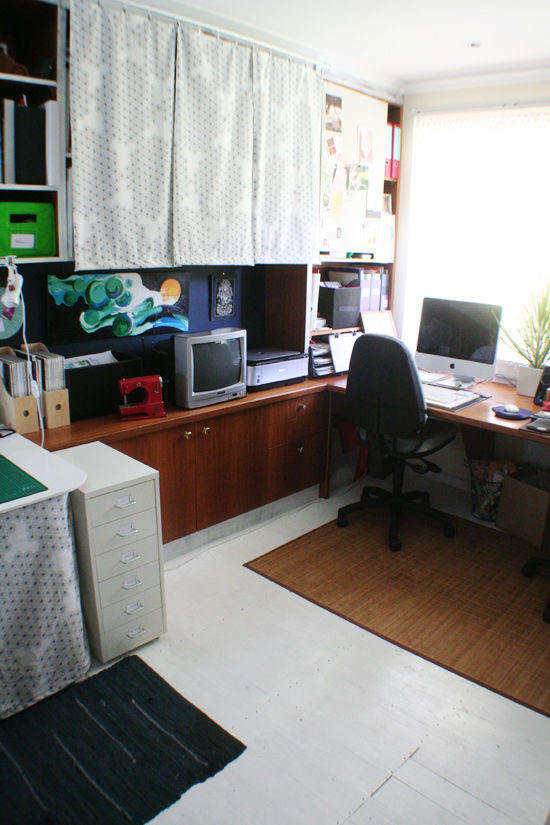 We're keeping all the built-ins and the main long desk, and planning to have this nursery able to still double as a workspace if need be (poor baby). I'm hoping to get back into making my jewellery while I'm on Maternity Leave from The Makers' Collective, so I'm hoping to set the room up to be able to do that as well as be super cute and a nice place for bubba to be in.
So we've got an ok base to work with. I'm keeping the blue/grey of the end wall (Knowledge by British Paints) for the walls, and painting the built-in cabinets and shelving gloss white. Here is the colour scheme I'm going to try and stick to: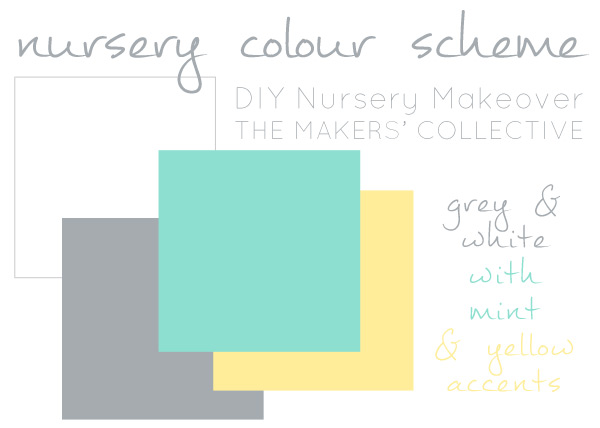 This weekend was just round one. Clearing everything out, removing my old jewellery making desk, moving the new furniture in. This is what I accomplished, and then yesterday (Monday of a long weekend) was basically incapable of moving a muscle: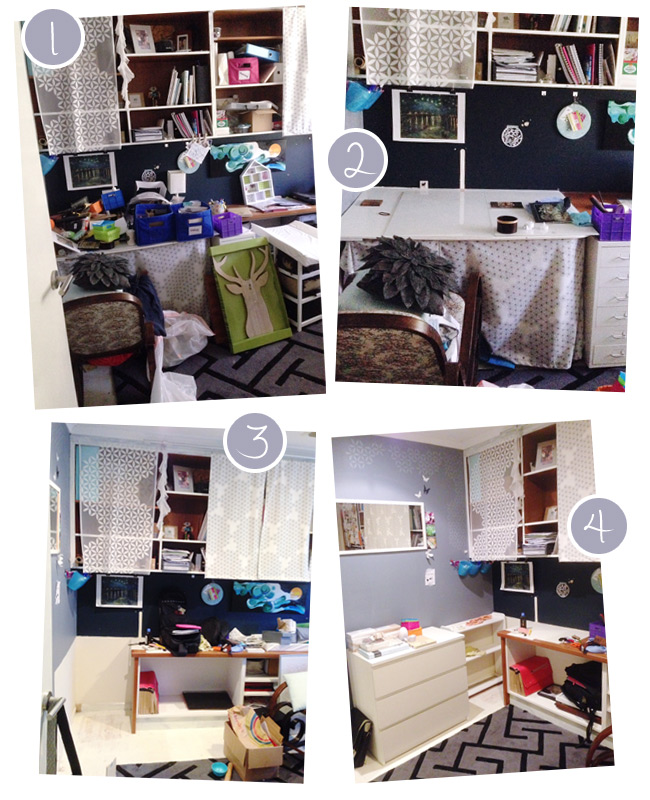 1. Messy mess mess; 2. STUFF mostly sorted & cleared out; 3. Removed work desk and all the STUFF that was hiding underneath it; 4. Moved in the change table/chest of drawers & bookshelf from Raf's room
We still have to paint everything (walls, cabinets & trims), we're going to go ahead and do the floating floors in what we *think* will be throughout the whole house by the end of the year (may as well test a small space to see if we like it!) and I'll make a fabric curtain/blind to go along the front of the cabinets for easy access. All these steps will be covered later in the series 😉
I've also got some amazing projects to complete along the way (rocking chair + Annie Sloan chalk paint, anyone??) and can't wait to share them with you all =)
Wish me luck!!