When two friends you've known since high school quit their 9-5 office jobs and starts their own business with a friend of theirs, and it's a huge success… you kind of want to high five them every time you see a post on Instagram 😉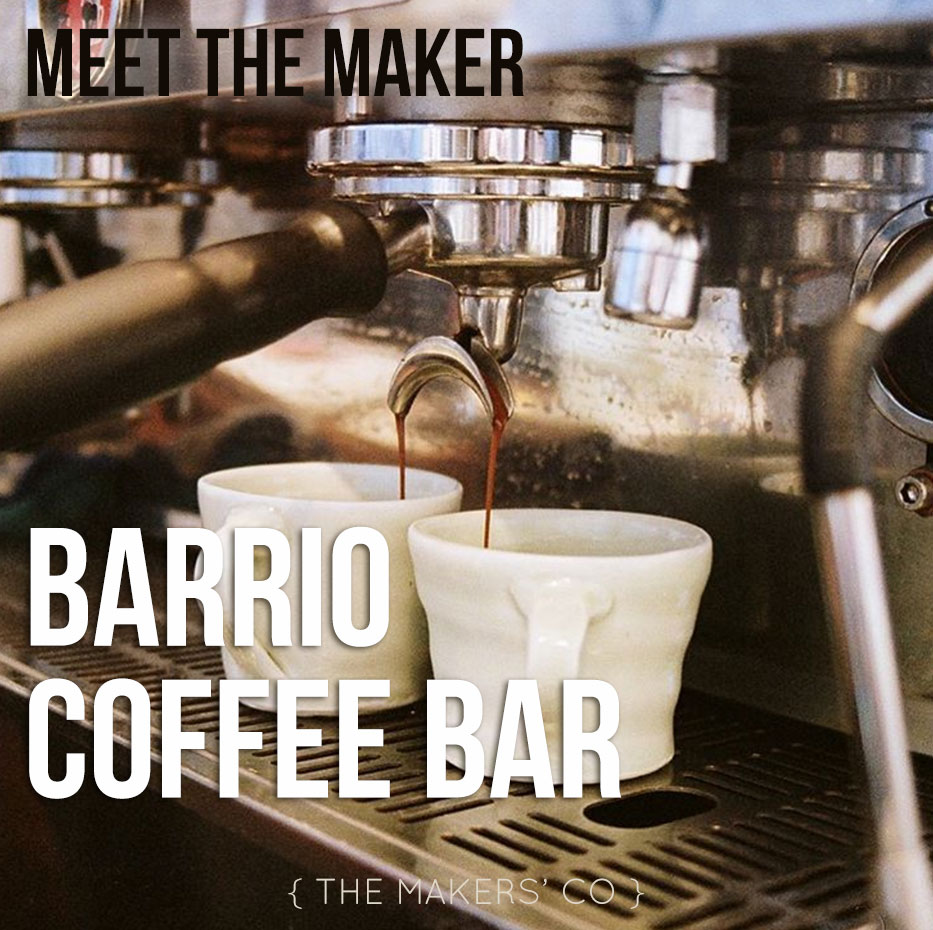 ⤷ Photo by Andy Mullens
Duncan, Sam and Dan own Barrio, a warm, inviting and well designed coffee bar (or "café" to those of us averse to coffee!) in my beautiful city of Canberra. 
Our little coffee bar is located on Lonsdale Street on the ground floor of the Ori Building, known as Lonsdale Street Traders.  The bar is an extension of us and the community within which we live.

This is our little space to showcase coffee and produce that we truly believe in, in an environment that welcomes everyone. Our coffee menu is interesting and tailored using traditional and contemporary brew methods to present the versatility of our coffee. So whether you're craving your daily espresso or keen to try something new we can cater for you. 
I asked them to share a thing or two about the business with you, these answers are from Duncan, who quit his full-time commerce job in Sydney to move back to Canberra and open the business  =)
---
What is the most significant way in which your life has improved since starting your own business?
I think the most significant thing is the control I have over life…I get to do what I love doing, in a space that I enjoy being in. Heaps of things have changed but for me thats the most important.
Why do people love your product/service?
To be honest I don't know, I hope it's because we provide great coffee and food in an environment that they enjoy being in. I also hope its because they get treated well while they're in the shop. I think Barrio is different things to different people so it's hard to say.
How did you work out exactly who your perfect customers were?
All our customers are different and I think they're all great in different ways. I think we just opened and offered a product and people either embraced it or they didn't, so customers identified themselves really.
What was the motivation to move your business from a casual gig to a full time business?
I think the answer to the first question applies…it was never a causal thing in our case but for me the motivation to open the shop came from wanting to create something and have total control of what we were putting out.
Where do you go for inspiration on how to continue to build and grow your business?
In terms of growth there are things we need to do to consolidate what we're already doing…so inspiration isnt that hard to find. In terms of how we do that and what it will look like I get a lot of inspiration from just going around and looking at different spaces…not just cafes or food places… and seeing how people have harnessed what they've got, to create something cool and interesting. I think finding inspiration is the easy part… filtering it down into something is a bit tougher.
What excites you when looking ahead at the next three years for your business?
Everything…the unknown of where we'll be at in three years is the most exciting….this time last year we had just signed the lease to an empty shell and now we have a fully functioning café, great staff, some new friends, so I don't know where we'll be in three years but I think it'll be good.
Details:
Barrio Collective
ORI Building
59/30 Lonsdale Street
Braddon, ACT 2612
HOURS
Mon–Fri: 7am–3pm
Sat-Sun: 8am–3pm
For more inspiring stories of women and men running their own creative businesses, read more Meet the Maker posts. 
If you're ready to take your business idea and make it a reality, it's time to become a member of The Makers Academy.
I give you the tools to plan, launch and grow your idea into a thriving business so you can become self-employed and stay that way.
Cut through the bullshit so you can start creating your dream business, TODAY