Today I want to introduce you to my friend Marissa of The Savvy Assistant – she's someone all small business owners would love to have on their team! I've known Marissa for just about a year now I love her writing style so much – full of humour and no bullshit, a girl after my own heart 😉 
Take note of Marissa's answers around starting your own biz and how to juggle business and kids… it's pretty much exactly what I would say, too!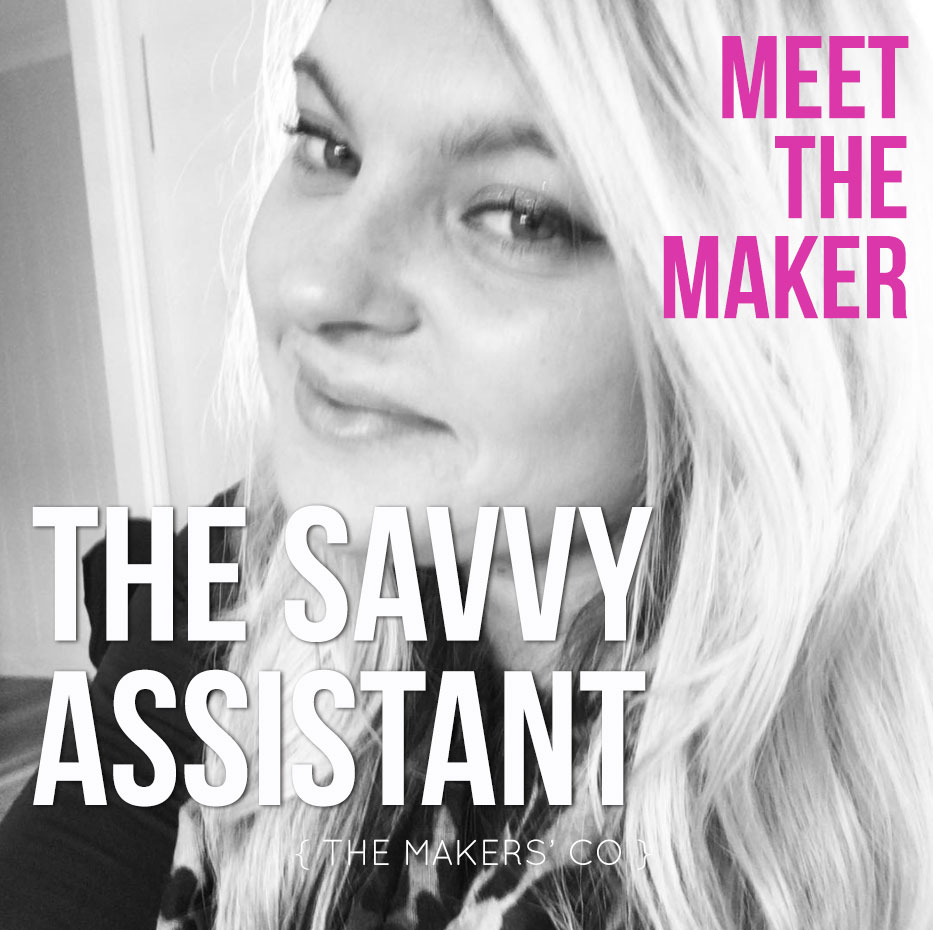 Who are you and what do you do?
I'm Marissa and my biz is The Savvy Assistant. I reside in Melbourne but the beauty of my biz is that I'm location independent. Meaning I work with clients all around Australia and even internationally. My specialties are copywriting and social media management. I love helping small business owners make a big splash through effective, affordable savvy marketing solutions.
I live with my husband Adam, my son Oliver and my dog Henry.
Why is it important to you that you run your own business?
After having my son Oliver, I realised the 9-5 gig just wasn't sustainable. I knew my career was not something I wanted to give up but the reality of having that career outside the home meant I hardly saw my son on the days I was working.
I'm a feminist and I believe women SHOULD have choices and the ability to do BOTH. Unfortunately society hasn't quite caught up. They say we've achieved equality yet most men are not offered flexibility in the workplace, which means the majority of child rearing is left up to the female. So really, we can't do it all without a village. Unfortunately I didn't have one of those so I had to turn the whole working mum gig on it's head.
SO – I decided to create a role that let me do BOTH. I work with wonderful clients and utilise ALL my skills WHILE being available to my son if he needs me. It's the best of both worlds and I LOVE IT. #whoruntheworld #girls!
What is the most significant way in which your life has improved since starting your own business or what is the most rewarding part of owning your own business?
Self belief!
I launched my biz to a very small audience thinking it would be great if I could just get one side project a week. I worked my butt off and I'm happy to report it's paid off!
I've been going strong for a year and a half now and it's safe to say I've blown my own damn mind!
The most rewarding part is knowing that I'm helping other small business owners live their dream too. I feel very privileged to have joined this tribe of hard working, self employed biz women. It's phenomenal!
Why do people love your services?
Oh this is a hard one! I think my clients genuinely appreciate my honesty and love that I'm a bit cray? I think outside the box and am totally cool with pushing an envelope or two to make an impact.
I understand what it is to pour all of yourself into your biz and I treat their business with as much love and care as I treat my own.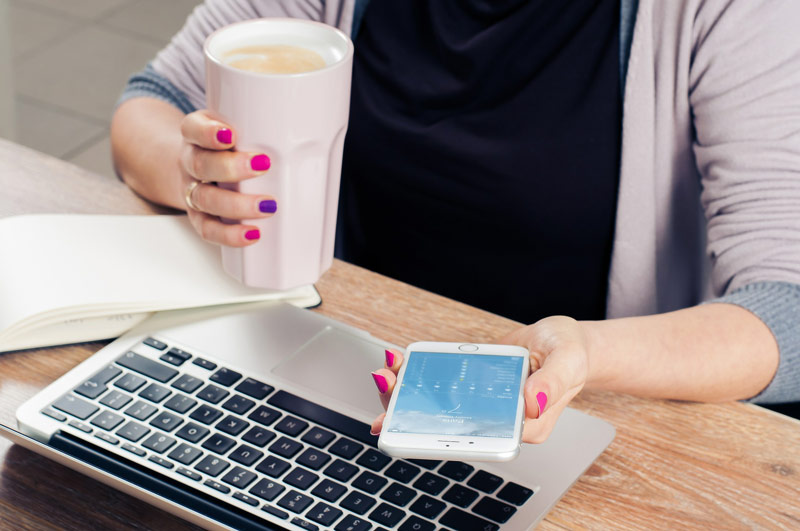 How did you work out exactly who your ideal customers were?
I can't categorically say I work with 'x type of client' only. I work with a REAL mix. Some of my clients are product based, some are service based and I've even have the odd marketing agency outsource to me too. I wouldn't have it any other way, it keeps life interesting!
What was the motivation to move your business from a casual gig to a full time business?
Once I started working for myself I realised how ill suited I was for typical office life. I'm a creative so I'll have days where I'm buzzing and pumping out brilliant piece after brilliant piece. Then, I'll have days where my creativity is lacking but I'm in total analytical mode. Working for myself, I can capitalise on this.
Also, I'm a total extroverted introvert. What that means is I draw energy from being alone. Being around a heap of people 24/7 drains me big time! I can talk anyone under the table when need be, but I'm at my best when I'm in my own environment. The perfect recipe for a freelancer.
Where do you go for inspiration on how to continue to build and grow your business?
My biz grows as I grow as a person if that makes sense? As I build my skills and refine my craft, I'll automatically see opportunities I didn't see previously and I'll just GO FOR IT. I love that I don't need permission to totally redefine my business.
At the moment, I am working on a COMPLETE rebrand which is super dooper exciting. Watch this space!
What would you say your biggest strength or asset specifically as a woman has been, in running your biz?
Resilience and creativity. Of course, I've had set backs along the way and I learn and move on. There's no point letting one 'no' get in the way of a million 'yes's'.
Being creative is at the core of everything I do – it's what makes my job fun. I don't do 'bland', I put my flava on everything.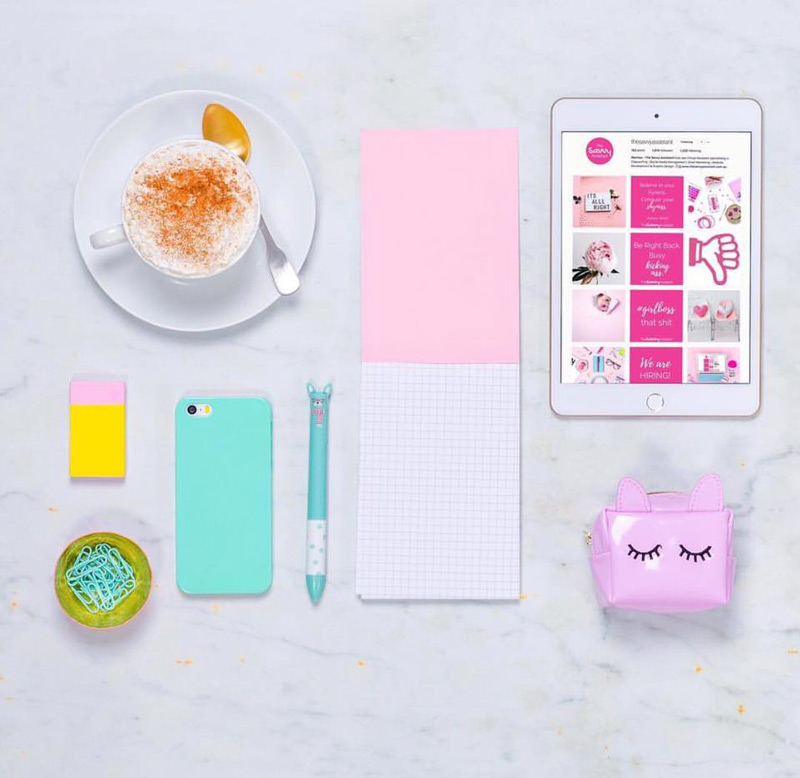 What challenges have you faced running your business whilst raising your son? Do you have any anecdotes, advice to share?
Oh my, business and kids is a fun mix! My little dude has NOT been a good sleeper and I've spent MANY days working on 0 hrs sleep. Once I pulled a 48hour stint with NO sleep just to meet deadlines and care for a sick kid. Yes, there were tears and coffee shots a plenty but sometimes there is just no choice but to power on.
My advice is be gentle on yourself when you can and go gung-ho when you need to. Learn to rest, not give up. Somedays you'll be super mum and some days you'll be boss babe. Just go with the working mum flow. It all evens out in the end.
As a small business owner, what is one thing you would say that every business owner should be doing right now in their business?
EVERY small business owner should be growing their tribe! With restrictive marketing and advertising budgets, you need to work with what you've got. Build those relationships on Instagram, get those ppl on Facebook engaging with you and mostly, get potential customers signing up to your e-newsletter. Leverage on this as much as you can without being cheesy or salesy.
What words of wisdom can you give to anyone just starting out on their small business adventure?
Just DO IT. The reality is, your business and your offerings will change over time. Yes, spend some time analysing and researching but don't let perfection stand in your way. I had a MUCH different business when I launched a year and a half ago than I do now. And guess what? It's about to change again! Innovate as you go my friend.
What excites you when looking ahead at the next three years for your business?
Oh so many things! I continue to grow and learn and I'm PUMPED about the direction my biz is heading in. I'll be hiring my first full fledged staff member this year which feels so massive but I'm totally ready. I'm so excited to work ON my business not IN it this year. And I'm thrilled to continue working with the fab clients I have. I feel like we're all growing together which is nice.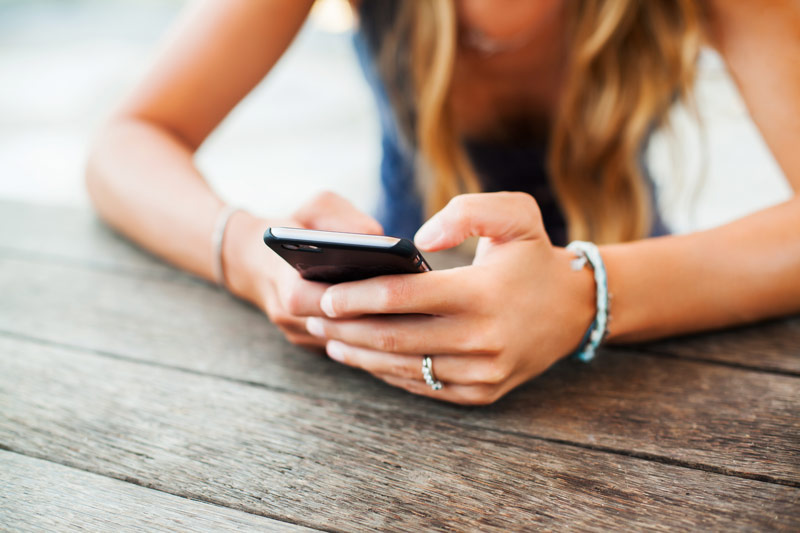 How can people find you?
Facebook: http://www.facebook.com/thesavvyassistant_marissabatty
Instagram: www.instagram.com/thesavvyassistant 
Website: http://www.thesavvyassistant.com.au
For more inspiring stories of women and men running their own creative businesses, read more Meet the Maker posts. 
If you're ready to take your business idea and make it a reality, it's time to become a member of The Makers Academy.
I give you the tools to plan, launch and grow your idea into a thriving business so you can become self-employed and stay that way.
Cut through the bullshit so you can start creating your dream business, TODAY