If you hadn't already guessed, I love holidays, and I LOVE the chance to get a bit of DIY craftiness on in celebration of said holidays. A really fun one is of course Easter, which is super cute with little people around.
I am however very aware of too many sweet treats going into little bellies, so I try to limit the chocolate intake as much as possible (a few small choccy eggs and one special big one is plenty for our 3.5 year old), and try to think of some other ways to make the day really fun and exciting for them (and us!).
This year we'll be having brunch with family, and of course the egg hunt is the highlight of the day for us. I usually go out and grab a packet of plastic eggs from the local dollar shop that open and close, to pop some goodies into, and hide these all around my mum's lovely garden. This year I'll be hiding a Domino in each one (you know the kind, from the big grocery store chain) and Rafa will absolutely LOVE finding these all around the garden.
Here's a throw-back to our Easter lunch two years ago, he didn't really understand the concept of the egg hunt back then, but now he's bigger (and super smart?!), everything is way more fun.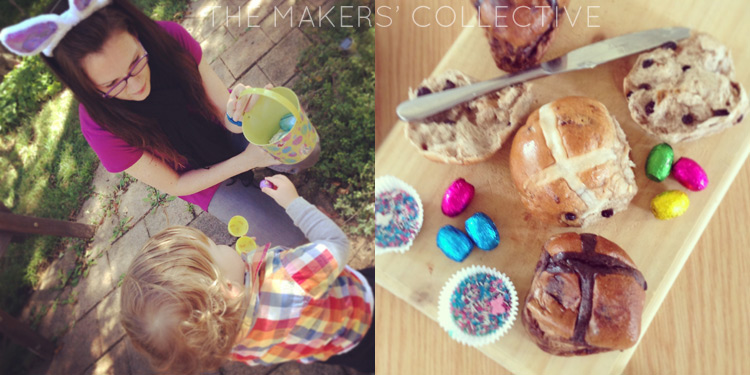 (I may have also mentioned something about the Easter Bunny being able to magically put the Sago Mini Bunny Monster Game (!) onto a household iPad as a special treat, but only if a certain little boy continues his toilet training every day until the big bunny comes! Yikes…)
So for the big kids this year, I've decided to put together some fun little favour bags to go on the table with some slightly fancier choccies inside for us to enjoy. I'm mostly using items I already have on hand to put them together (silver paper bags, green Easter "grass" stuffing, mini pegs – don't you worry, I'll be posting about it!), but have designed a super cute A4 Easter Tags Printable to use for the labels. Of course, I want YOU to have something fun and easy to use for your own Easter DIY crafty projects too, so I'm whacking the FREE Easter printable up here on the blog for you to use too =)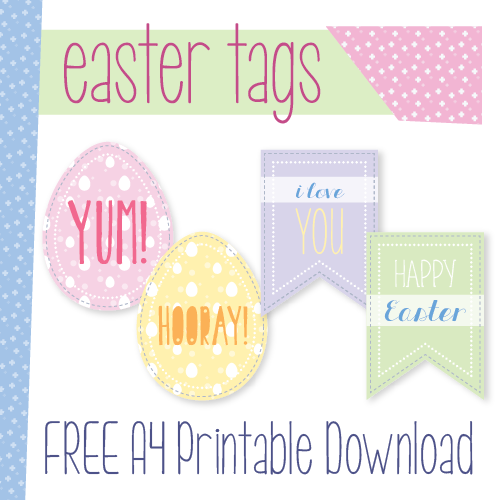 There are 9 tag designs in total, and you can print the sheet as many times as you like, so even if you're having a giant family and friends gathering, you'll have enough cute labels to go around! Simply click on the image (or the link above that) to download the full-size A4 PDF, save to your computer, print and cut out! Easy as that =)
Feel free to share this post with your friends so they can use it also! And I would LOVE to see what you do with them, so please if you do use these printable Easter tags, comment here with a pic, or upload to our Facebook Page or to Instagram and tag @themakers.collective & #makestuffeveryday =D