For most of this year I've been searching for a Wall Planner / Calendar that does it all, and well, I can't find one. So I thought well, bloody hell, why don't I make one myself?
I'm *really* happy with how it's coming along, and I can't wait to start using it next year! It's got everything I need to plan my year, with space for workshops, personal appointments and birthdays, all the Aussie holidays and space to put my monthly and quarterly goals. I'm pretty excited about it!
**Read about the update to the Wall Planner Here**
Introducing
The Makers' Collective
2015 Wall Planner
Features
A2, single sided, full 2015 Wall Calendar
Laid out Quarterly, with space for quarterly goals
Space for monthly goals
All Australian Public Holidays and School Holidays included
Bright, bold, neon & metallic colours
Each day has room for blog or editorial schedule/meetings/birthdays
Paper
Relex Laser, 100% Australian Made
200gsm Matte Finish
Certified Carbon Neutral
PEFC Certified
ISO 14001 Environmental Accreditation
This Wall planner is perfect for small (or big!) business owners who want to forward plan, view their year at a glance, and have something amazingly bright and beautiful on the wall to help them do it.
Cost
As you can imagine, these beauties are not cheap to print. They are a specialty, limited edition item!  With fancy paper, fancy colours and a great design, only 100 will be printed. I want the planner to be accessible to everyone though, so have made them as affordable as possible! Each 2015 A2 Wall Planner will be $36, plus postage (or pick up from the Makers' Hub for free).
Preview
The design is not quite finished, and as it is a specialty item with specialty inks being used, I will not have a preview before all 100 are printed. Here is a little sneak preview at the design, the top sections will be metallic gold (matte, not glossy/foil), and the months will be more neon in colour than pastel.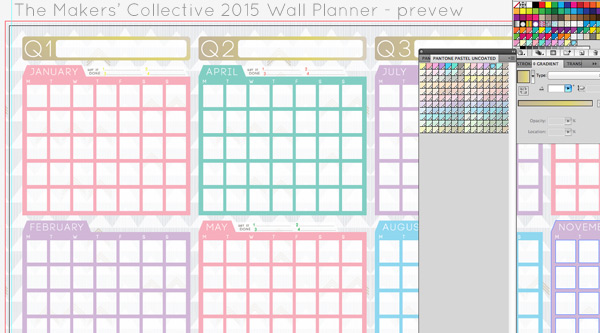 Pre-Order Now
Save 20% on the Wall Calendar price if you Pre-Order!
ORDERS ARE NOW CLOSED
If you're ready to take your business idea and make it a reality, it's time to become a member of The Makers Academy.
I give you the tools to plan, launch and grow your idea into a thriving business so you can become self-employed and stay that way.
Cut through the bullshit so you can start creating your dream business, TODAY