I'm so pleased to announce that the 2017 Makers Academy Scholarship program is now open for you to apply – it's your chance to receive a
 Makers Academy Full Enrolment Package, plus one 30 minute virtual mentoring session, to a total value of $645.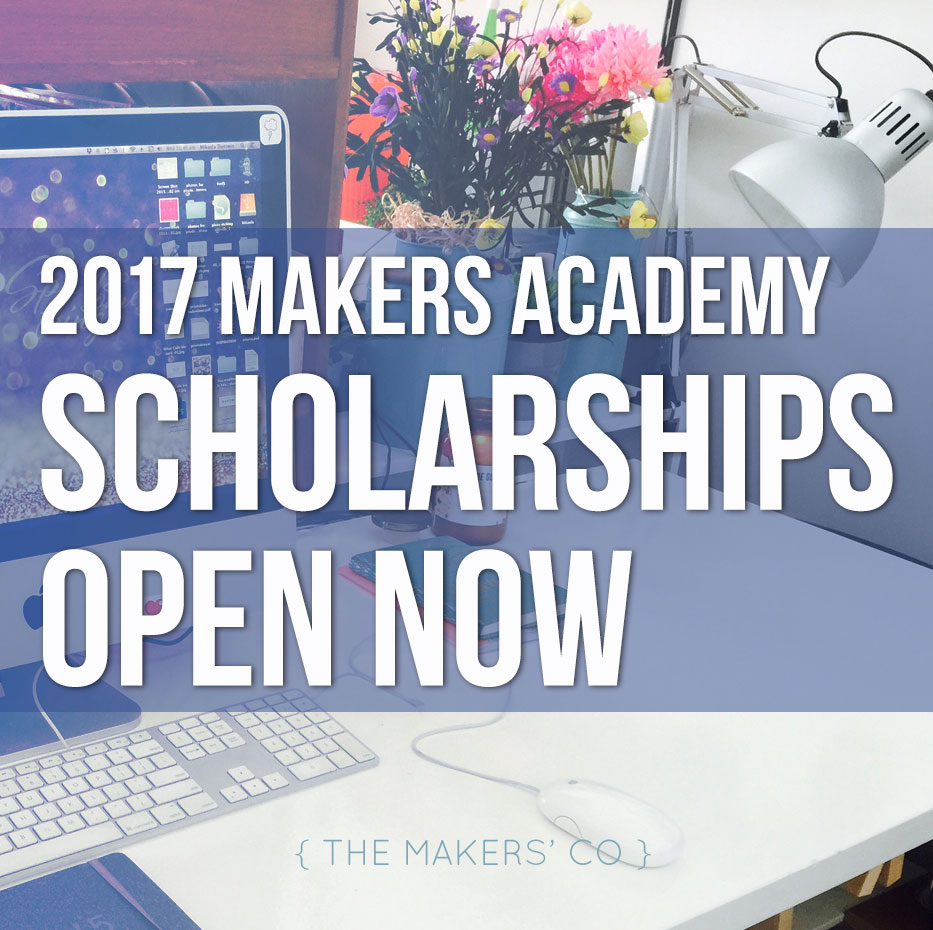 There's a total of 17 full scholarships up for grabs, with each recipient receiving a Makers Academy Full Enrolment Package, plus one 30 minute virtual mentoring session, with a total value of $645. Five full scholarships will be granted through The Makers Collective application process, and a total of 12 full scholarship recipients will be selected by leaders in the creative and small business community from around Australia.
The scholarship program is open to all self-identifying women globally. We strongly encourage applications from Women who:
are struggling with financial hardship
have survived or are experiencing domestic violence
are of Aboriginal or Torres Strait Islander descent
are recent refugees
The role of online education is changing the world – we are opening doors where there were no doors before, giving opportunity to people who may never have had the chance to learn these skills otherwise. You no longer need a tertiary education to be incredibly successful in life: all you need is determination and a helping hand.
As a teacher, a business owner, and a woman who has experienced personal tragedy, I want to make business education accessible to ALL women, no matter their circumstances.
"The world is absolutely becoming a better, more open, more accessible place because we're all teaching others how to do things. No admission boards, no 6-figure student loans, no need to live in a country of privilege. We can all teach whomever will listen." – Paul Jarvis, online course creator ChimpEssentials.com
The Makers Collective is a supportive community of makers and creatives with one main aim: to empower women around the world to pursue creativity in business and in life. Through online courses in business fundamentals, graphic design and photography, along with live workshops, free online content and an encouraging online community that grows daily, The Makers Co is changing lives and the role that women play in the small business landscape.
So are you ready to start taking action with your business idea that will change your life for the better?
Applications open 11th April and close on the 12th May.
If you're ready to take your business idea and make it a reality, it's time to become a member of The Makers Academy. 
I give you the tools to plan, launch and grow your idea into a thriving business so you can become self-employed and stay that way.
Cut through the bullshit so you can start creating your dream business, TODAY