It's the time of year that I love – it's getting warmer, there are way too many social events on the calendar, and I start thinking about what I want to achieve in the next 12 months. 
I few years ago, I was looking for a wall planner that did everything – allowed me space to put the usual birthdays and appointments, with enough room for blog posts and newsletter items, space for writing in a quarterly goal that I would be working towards, and room to put in what I would be focusing on each month to hit that goal.
And I couldn't find one anywhere!
So I decided to do what I always do, which is to do it myself.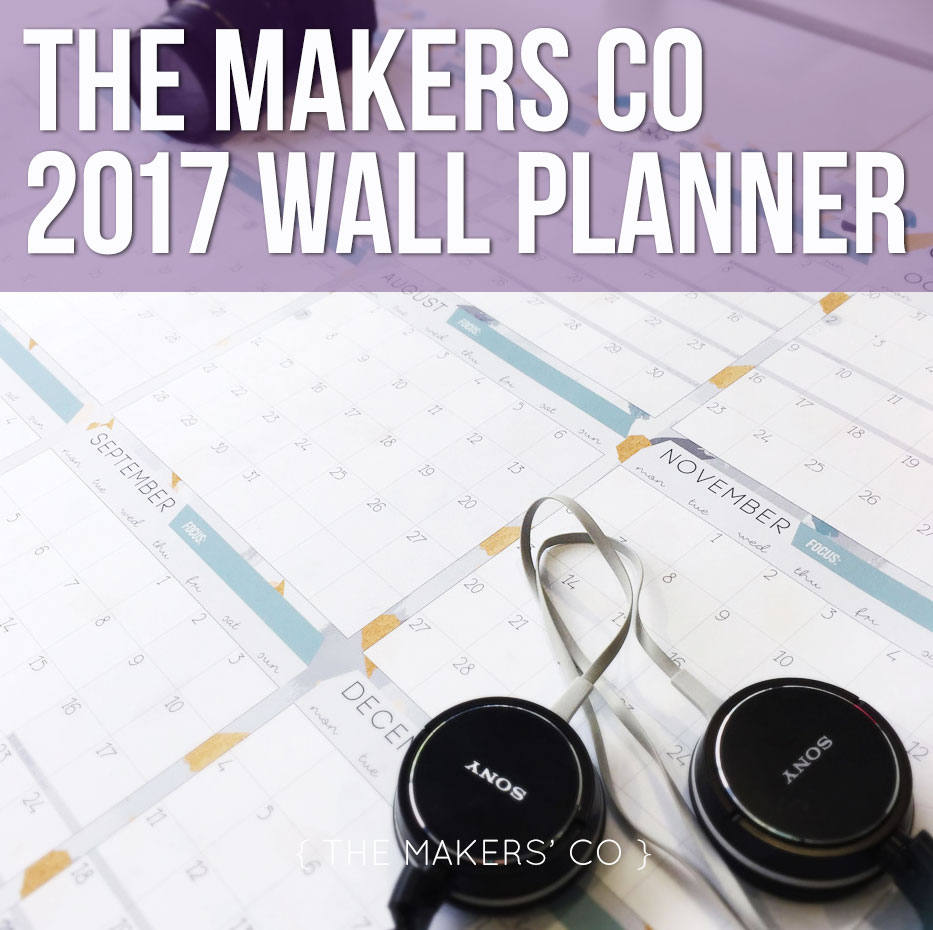 In 2015 I designed my own bespoke wall planner and had it manufactured with neon ink and embellished the first 100 planners by hand with gold powder embossing (you can read about it here), which was fun and very special, but not very cost effective, for me OR for you =P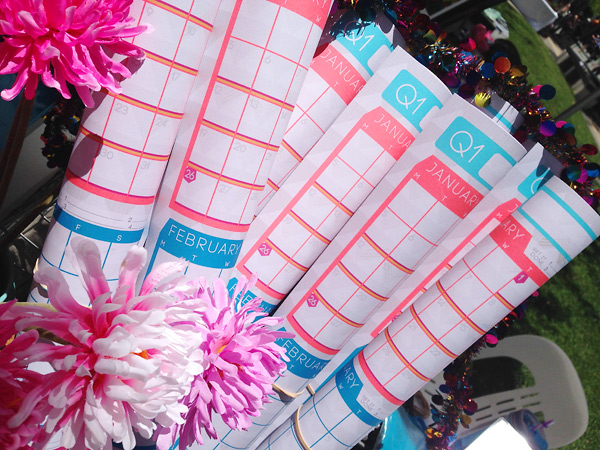 Since then, I've created my wall planners as digital downloads, and recommend getting them printed through either Officeworks or Vistaprint (or your favourite local printer!). This way, production costs are kept to a minimum (which means a lower RRP for you for the design), and you can save even more if you're able to get your planner printed locally – no shipping fees!
I am just a little bit in LOVE with the 2017 design of the wall planner, and can't wait to sit down at my planning day in the next couple of weeks and sort out the year ahead. So many goals to kick, so many plans to put in place 😉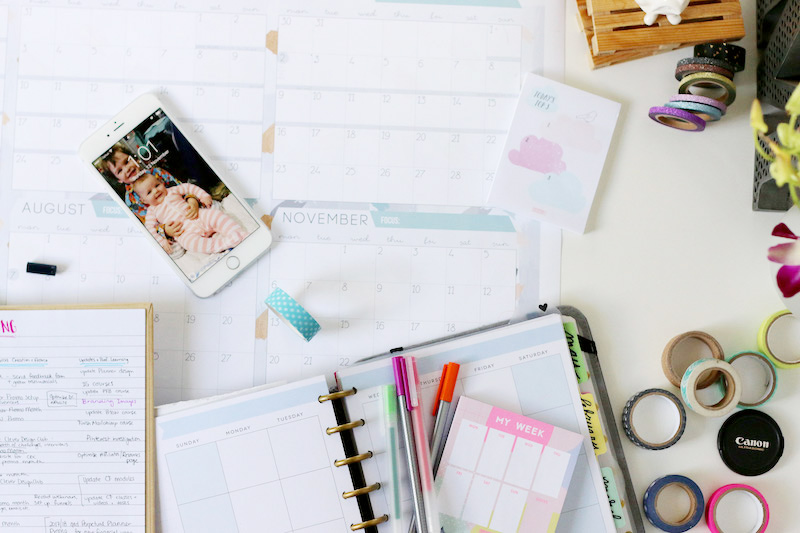 Ok, on to the juicy details:
The Maker's Collective 2017 wall planner has been designed with bloggers, creatives and business owners in mind. Laid out quarterly with dedicated space for quarterly goals and monthly focus tasks, this planner will let you plan your year in advance, plan your projects around holidays and other busy times to ensure you stay on top of everything, evenly distribute commitments over the year and help you feel more organised, less busy, and be able to enjoy your free time!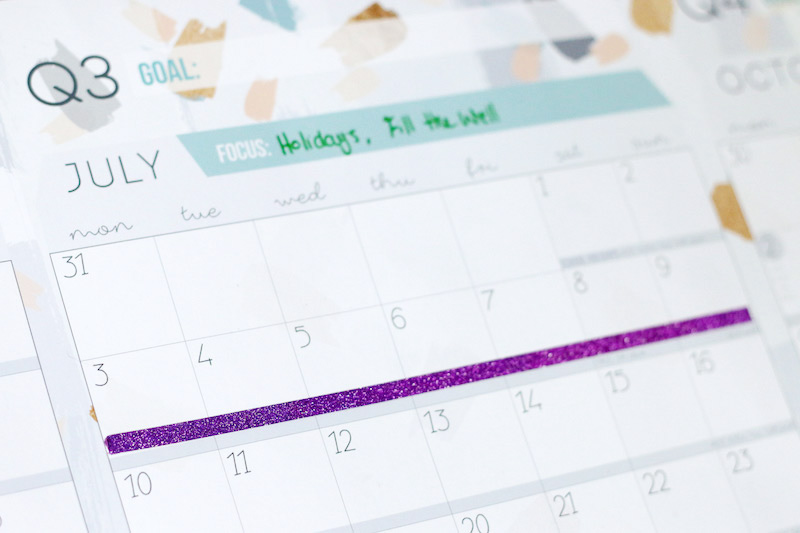 The 2017 planner has been made available as a printable digital download, which means you have a lot of flexibility in how your final planner turns out.
Use the planner as-is, printed full size to A1 and hang with clips or pin to a board, use pencils, pens, markers, post-its and stickers to note important dates and projects. Once you have the planner printed, you can laminate or frame it behind glass to turn it into an erasable planner, using colour-coded whiteboard markers or chalk pens and erase easily when needed. You can also cut the planner into half or quarterly sections to fit in smaller wall spaces or to help you focus on shorter periods of time, or remove months that have already passed.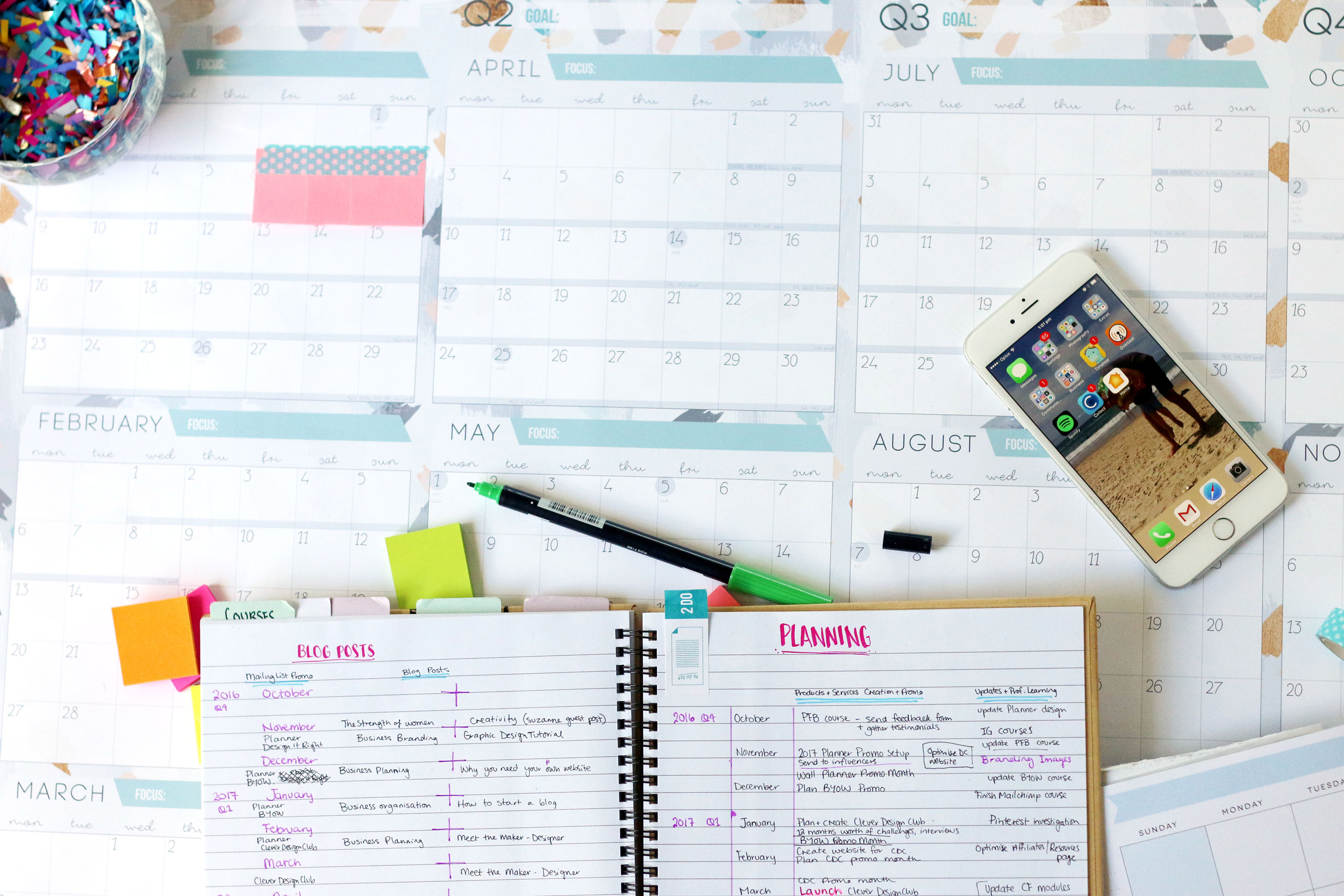 I honestly am so happy to be able to offer this wall planner to you, because I LOVE using mine and I think it really works to solve a lot of problems we business owners face:
✓ Plan your year ahead of time
✓ Ensure no projects fall due at the same time
✓ Avoid getting overwhelmed with too many commitments
✓ Keep on track with quarterly goals
✓ Easily transfer important dates from your daily and monthly planner
✓ Maintain important dates throughout the year
✓ Keep moving toward your goals with a monthly focus
✓ Plan your projects around holidays and other busy times to stay on top of everything
✓ Evenly distribute commitments over the year
✓ Feel more organised, less busy, and be able to enjoy your free time!
Sounds pretty good, right?
My planner is available NOW to purchase, download, and send to your favourite printer. You could have it in your hot little hands by tomorrow if your printing place is on the ball 😉
I'm hoping to set up some exercises for you to help with your planning too, so everyone who purchases the planner will receive more info about that via email. 
Don't be a wishful thinker. Be an action taker.
CAN YOU CONFIDENTLY SAY YOU ARE WORKING ON THE RIGHT THING, RIGHT NOW IN YOUR BUSINESS?
Sometimes, even when we are doing all the right things, it can feel like we're spinning our wheels and not moving forward at all. This could be because you're focusing on the wrong area of your business – or doing all the right things, but at the wrong time.