What packaging or supplies could you buy with an extra $250 US (that's over $300 AU) right now?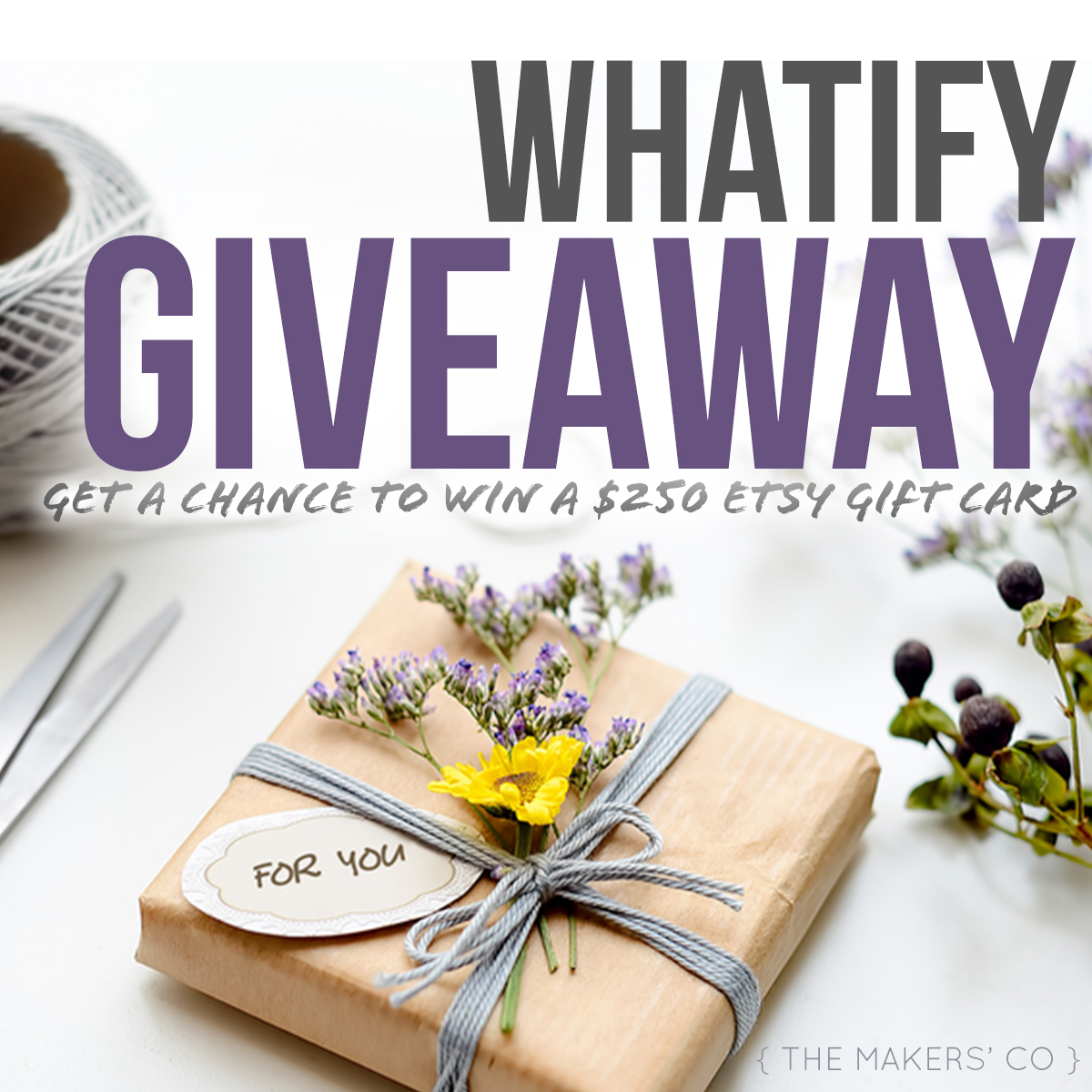 The Makers Co have teamed up with Whatify (a really useful service provider) to give one lucky person just that – A $250 (US dollars) Etsy Gift Card.
Not sure what you might do with it? I've made a rambling little video for you (feel free to watch it on double speed if you're short on time!) to quickly show you a bunch of stuff that is available on Etsy to help grow your business and brand. I've focussed on Packaging and Supplies here, but honestly, you can buy whatever you want – it doesn't have to be for your business!
Entering is SUPER SIMPLE too.
All you need to do is Create a free account on Whatify, and fill in your details in the entry form below (in this post). I made another video showing you how easy it is to sign up with Whatify (again I ramble a bit – it only takes about 1 minute in reality, not 5!)
If you want a better chance of winning, you can add extra entries by:
Sharing the FB Post about the giveaway (found on the Makers Co Facebook Page) to your own newsfeed (publicly) or business page
Sharing this blog post to your own newsfeed (publicly) or business page, and/or
Pinning any image from The Makers Co blog (not necessarily this post) to your Pinterest account
Ready to enter? Awesome!
GO GO GO
a Rafflecopter giveaway

Terms and Conditions:
This giveaway has nothing at all to do with Facebook
This giveaway is not endorsed by Etsy
This is a game of skill and a winner will be chosen based on satisfying all entry requirements
Contest starts 8am Monday 22nd January and ends at Midnight 30th January
Prize will be provided by Whatify
Etsy Gift Cards cannot generally be used to pay listing fees (unless you can work out how to do it!)
CAN YOU CONFIDENTLY SAY YOU ARE WORKING ON THE RIGHT THING, RIGHT NOW IN YOUR BUSINESS?
Sometimes, even when we are doing all the right things, it can feel like we're spinning our wheels and not moving forward at all. This could be because you're focusing on the wrong area of your business – or doing all the right things, but at the wrong time.