In the lead up to Rafa's 3rd Birthday Party (with a "Bob the Builder" theme requested) I posted my plan for the party, and how I was hoping to make it fun and fit the theme, on a "mini" scale, to save time, money, and effort.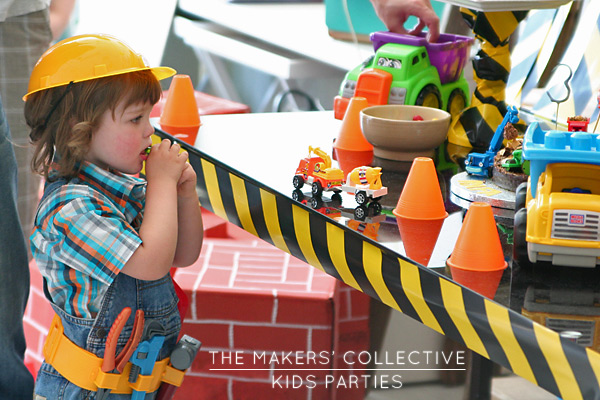 Well now, here I post the wrap-up!
Keeping it simple
We are not having the party at home. This means I don't have to get the entire house "party ready" before even thinking about decorations.
This was the best idea I've ever had. The Makers' Hub was the perfect venue for the party, the floors are easy to clean and it's a big enough room for a small group of kids to play,
We are having the party at 3pm-5pm, so food can be kept to a minimum. A Cake, and 3 bowls of "party food", means we won't have copious amounts of sugar-laden left-overs or wasted food.
There were no leftovers besides one bowl of lollies, but I think we still had too much sugar on-hand for 3 year olds. Next time I will do a few more savoury items, along with easy veggies sticks and dips. The kids were going nuts with the M&M's!
We're only inviting a handful of his buddies, and the rest will be immediate adult family. This means only having to make a handful of party favours/goodie bags, which also means I can make them pretty awesome =)
There was still a LOT of people! 5 of Rafa's friends, plus their young siblings and 2 parents each, plus our immediate family, and the room was packed. I might think about having an even smaller party next year!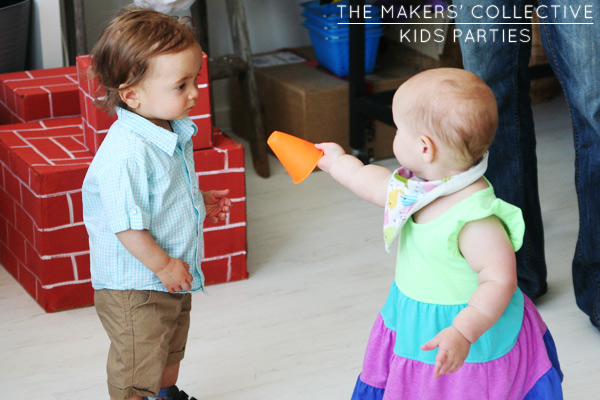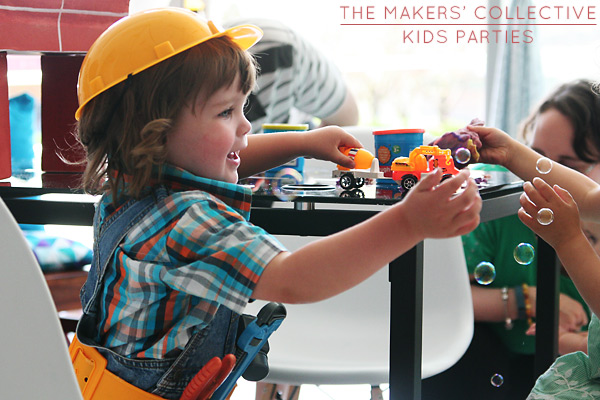 Decorations
Colour theme for most items, branded theme for only a select few items. This means I can use any left-over items at a later dates, and won't have a million Bob the Builder balloons and napkins that will never be used again (hello Under the Sea themed plates!)
We put up mostly red, yellow and blue helium balloons, and had red plates, black napkins and yellow cups. I bought small toy figurines online of the TV characters to put on top of the cake, and these are now some of his favourite toys! I bought a tradie caution flag from Bunnings for under $2 and wrote "Party Time" on it in permanent marker to hang on the door, and a roll of caution tape for $8. I bought a kids builder costume set online for Rafa and dressed him in his denim overalls, and painted a bunch of cardboard boxes a red brick colour then drew white brick lines on them. I also got a set of safety cones from the dollar store for about $4.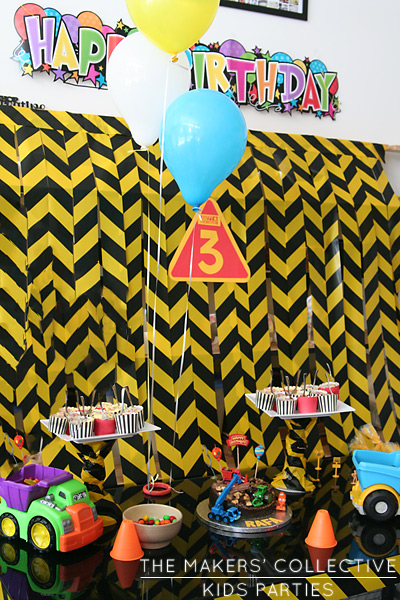 Digger Cake, based on an idea seen online, with a store-bought chocolate mud cake and mini Bob the Builder toy vehicles on top (bought online)
The cake worked out really well, and only took about 20 minutes to decorate! I just cut out a section of the choc + white choc mud cake I bought from the Cheesecake Shop for $20, crumbled it over the top of the cake and placed the toy vehicles on top. I crushed up some violet crumble to put as rocks, and sprinkled chocolate flakes over everything for dirt. JA has the hot tip of tying a flake "log" to Lofty the crane, which was super cute 😉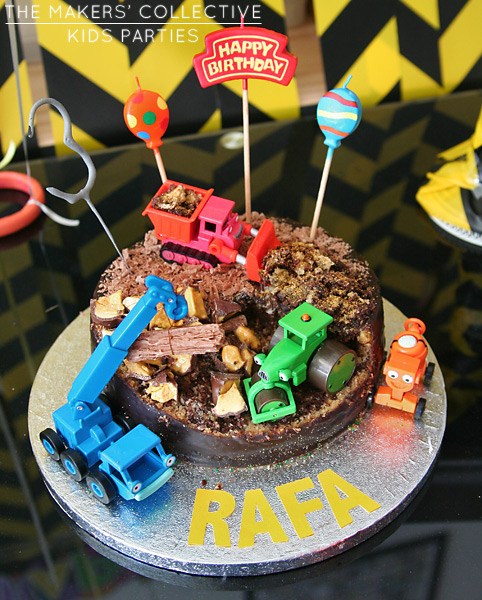 Dump Trucks to hold party food, as per the image below (but we will be using some Duplo dump trucks Rafa already has)
We used one truck Rafa already had, however I did buy one extra dump truck from Kmart, which was about $7 I think. These looked cute and fit the theme well, and of course he has been playing with them ever since.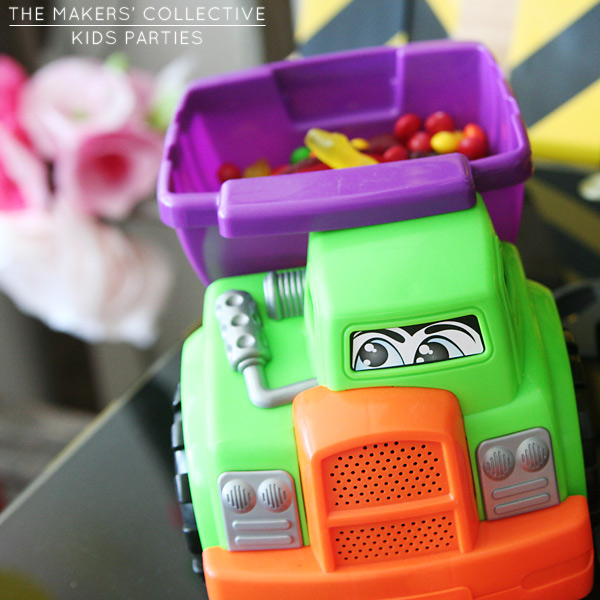 The cupcake toppers I will cut on my Silhouette Cameo to look similar to this awesome Construction Banner you can grab from Etsy (but I will just do simple shapes, those trucks would be way too much work at cupcake topper size!) 
I did start to make the cupcake toppers, by punching out some shapes using the multiple paper punches we have at The Makers' Hub, but in the end I decided not to worry about them as I was running out of time and thought I would just put some mini forks in each of the cupcakes instead.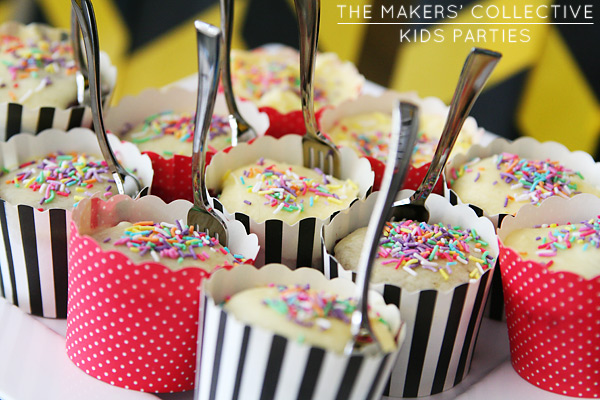 Use Caution Tape as the base decoration, in the doorway and along the fronts of the tables, and as a backdrop to the food table
This was probably the most successful decoration of the day! It was so easy to put together, and I've now carefully rolled it all up so it can be used again in our "Construction Themed Kids Party" package at The Makers' Hub.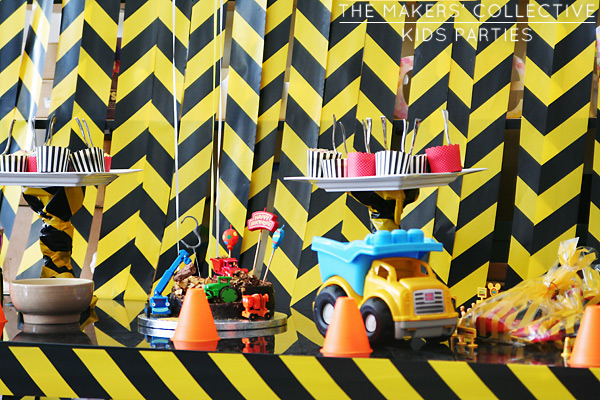 Games
Games are tricky for toddler parties. I think we are again going to keep it really simple, with some boxes painted like brick walls that the kids can "build" into houses, maybe have some lego to play with, and then let them to play soccer outside! That's always easy =P
This is exactly what we did, the kids played with bubbles and play-doh, and were less interested in the "bricks" but a couple of them watched while JA built a robot out of them. Then we did cake and presents, and then that was it really! I'm hoping next year we can start doing pass-the-parcel, but we'll see how well that works!
Here is Rafael with Nandy (who's 95th Birthday is next February!), I am absolutely LOVING the natural light in The Makers' Hub for capturing these special family moments at parties =)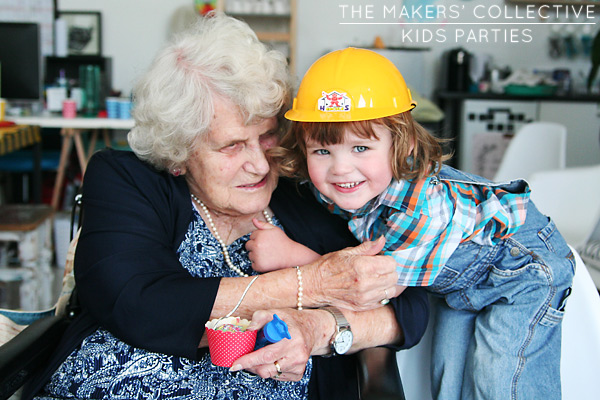 What themes have you done for your kids parties this year? Do you DIY, or do you prefer to get some help?