By now you should know I'm all about saving time and taking action in your business – I know you don't have time for fluff when you're trying to learn something new (me either!), and I know we're ALL trying to be more efficient with everyday business tasks and trying to fit everything in. As sole traders, we are pretty much wearing all of the hats, all of the time.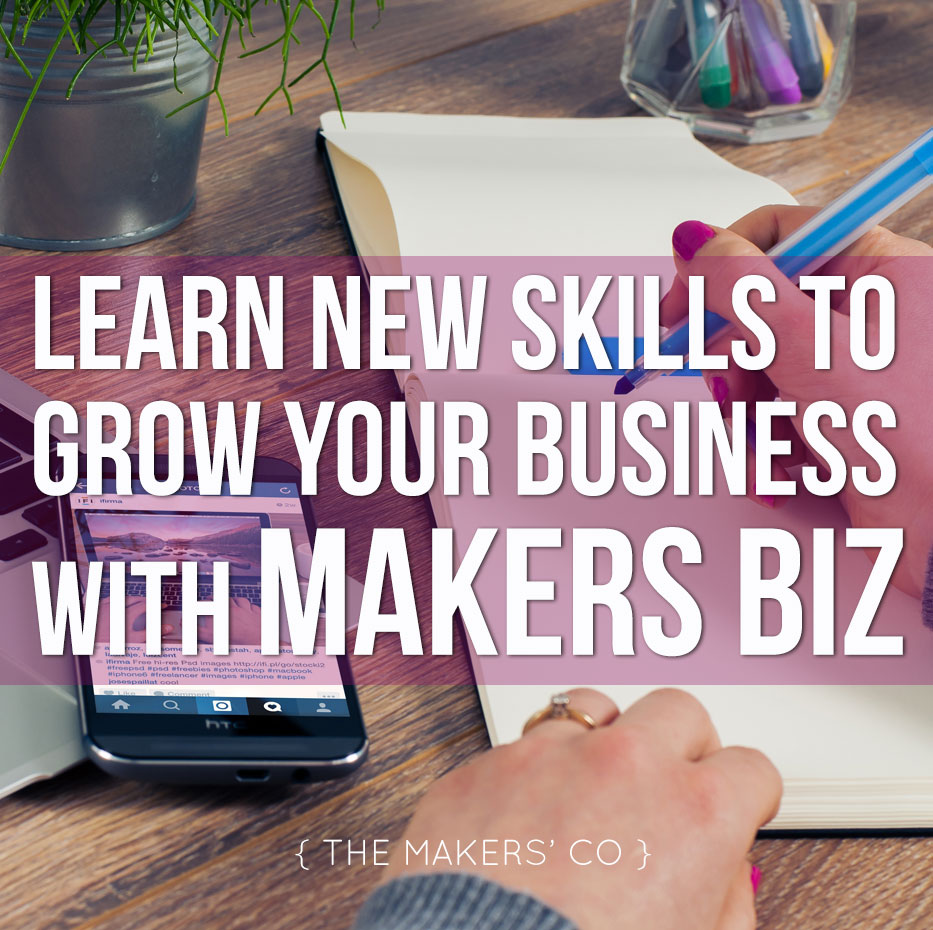 Some of us may be lucky enough to be able to outsource some tasks (I have a wonderful VA for just one hour a week, posting my IG posts that I schedule in advance – it's a huge help!), but I know for the most part, we are juggling the jobs of designer, maker/manufacturer, photographer (and model!), copywriter, marketing manager, strategist, sales person, customer support officer, advertising specialist, mailing list manager, bookkeeper and sometimes we are our own accountants too! 
No wonder we are always working so much IN our business (ie making, creating, selling, admin etc), and find it hard to carve out some precious time to work ON our business (strategy, goal setting, forward planning, professional development etc). But the problem is, if you're constantly working on the day to day tasks in your biz, you're not giving yourself the opportunity to learn and develop new skills or strategies to grow your business to be more successful (which is usually the general goal, right?!). 
Hands up here who would like to have better photography for their products?
Who would like to sit down and figure out the perfect way to do their pricing? 
Who wants to optimise their branding to get more sales?
Who would like to be an expert in marketing and social media to grow their customer base?
But how are you going to learn how to be a professional photographer, a numbers whiz, a branding expert, and a marketing guru (all approximately 3+ years tertiary education/5+ years in-the-field experience each), all at the same time, AND run your business?
You're not. It's just not going to happen.
But what we CAN do, is learn a little.
Learn enough about each area to start making small improvements in your business, start moving forward and start seeing more profits flow into your bank account. Once that happens, you don't need to be an expert, because you can then hire the expert to work on that area for you. You'll be able to let go of some of those hats! 
All you need to do right now, is commit to learning a little. And that means setting aside some concrete chunks of time in your schedule for some professional development. 
I am still learning.

– Michaelangelo
Now with that in mind, I have some excellent news for you! MAKERS BIZ is here.
MAKERS BIZ is a free online summit, orchestrated by Deb of tizzit.co (an online summit is basically a conference, but online… you watch videos of all the speakers from the comfort of your couch in your pjs #winning)
"Our speakers are world-class experts and successful handmade entrepreneurs who will share with you tips and strategies they've learnt from experience – so you don't have to make the mistakes they made when they started! All sessions are jam-packed with action-driven tips and tricks that you can apply to your own business." – MAKERS BIZ
So who are these experts? Well friends, there's over 25 fab people lined up, but I'm just going to point out a couple here who have had an impact on my business personally:
Jennifer Lee
Jenn is a best-selling author, business coach and the mastermind behind The Right Brain Business Plan. The summer holidays that I decided I wanted to run my own commercial space, I sat down and completed Jenn's RBBP program, planned for 12 months, then quit my job and opened The Makers' Hub the following summer. 
Jess Van Den
Jess is a full-time creative entrepreneur, podcaster & business teacher, silversmith jeweller and the original founder of *Bespoke* Zine (which has since been sold twice). When Jess initially had the idea to start a zine focusing solely on handmade artisans, I offered to design the printed product for her. We worked on a total of 7 issues together before Jess sold the zine, and holy moly it was fun!
Elle Roberts
Elle is one half of the duo who bought (and subsequently sold) *Bespoke* from Jess, and this is how I came to follow what Elle was doing at the time. She is also the creator of the Artful Business Conference (of which I hosted a satellite event a couple of years ago at The Makers' Hub), a podcaster and a creativity coach & business mentor. 
Go check out the full list of experts HERE, including *drum roll*, me!
I'm really pumped to have been asked by Deb to participate in the summit, because I'm all about teaching you how to grow your biz, but also, I LOVE learning (even if it's just a little about each thing), so I'm really excited to actually be a participant in watching each of the sessions also. Honestly, go have a squiz at the content being covered, it's going to be pretty rad!
I really like the format of MAKERS BIZ too. Basically, you set aside time to watch the sessions that are most relevant to you (by the way, they are FREE to watch for 48 hours. Completely free. So if you find session one super insightful, you can watch it again and again over two days). Then, after the free viewing window closes, you have the option to purchase a full access pass to keep the recordings forever. My idea would be to watch what I can during the week, then purchase a full access pass and commit to watching one per week (and really absorbing and learning all the information being taught) over a 6 month period – I reckon that would be an excellent way to continue your professional development, as well as continue to be inspired and motivated over a longer period of time, instead of signing up for something, watching a full day of content and then never coming back to it (or what you've learned) again.
Want to know a little more about it?
MAKERS BIZ has been created for Makers and Handmade Entrepreneurs, and for anyone with a knack for the handmade and determined to make a living from it. Over 25 experts and successful handmade entrepreneurs are sharing with you their best strategies and laying down the roadmap to a profitable handmade biz.
With a range of expert talks and hands-on workshops, all the sessions are value-packed and action-oriented; allowing you to effectively implement what you've learnt and cut years of trial and error off your learning curve.
This online event is organised into 3 easy-to-follow steps:
Step 1 – Launch
Learn how to build a solid foundation for your handmade business: legal set up, pricing, branding, product collections, money management, and much more! All you need to start (or re-assess) your handmade shop.
Step 2 – Sell
Start selling your products and making money! Pick the right channel to sell your products and reach your customers; and learn the best strategies to selling on your own website, on online marketplaces, at craft markets and to retail stores.
Step 3 – Grow
Scale your handmade business and turn your shop into a successful and profitable biz! Learn from renowned experts the best social media and marketing tactics to drive more traffic and sales to your handmade shop.
So guys, it's time to commit to learning a little more about a lot of things, in order to grow your biz and be more successful. Are you with me?! Click below to register for the free classes now =)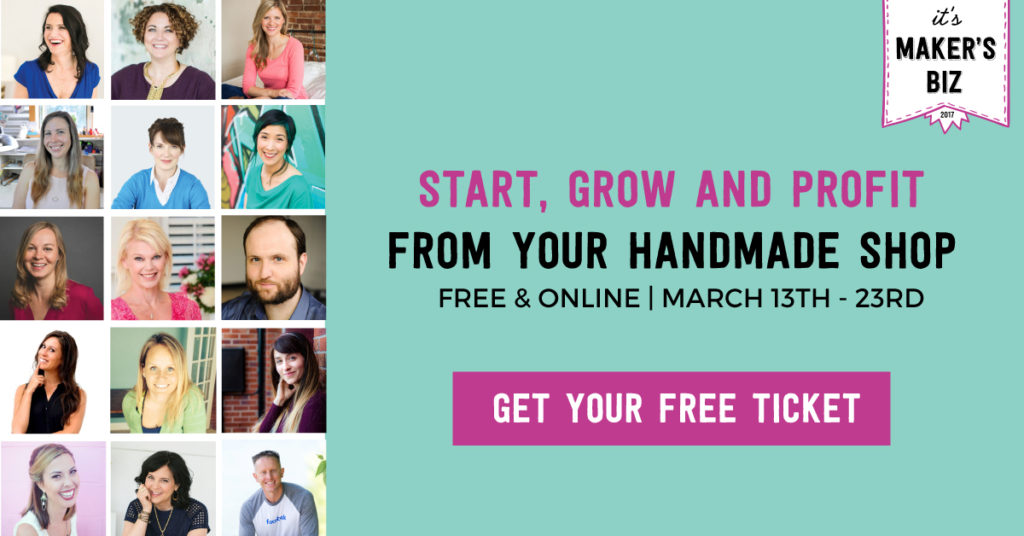 Jump on over to The Makers' Co community group and let me know if you're going to join me in MAKERS BIZ!
If you're ready to take your business idea and make it a reality, it's time to become a member of The Makers Academy.
I give you the tools to plan, launch and grow your idea into a thriving business so you can become self-employed and stay that way.
Cut through the bullshit so you can start creating your dream business, TODAY