Today we've got the uber talented Fionna from Peony 'n' Pearl in the Meet the Maker seat. Fionna's work has been featured in a range of publications and she is in high demand for weddings and other events, not just in Canberra but around the country! 

Who are you and what do you do?
My name is Fionna and I run a little florist/handmade business called Peony N' Pearl. I have a slight identity crisis as I am an Indonesian Chinese with (I've been told) an American English accent. I grew up in Jakarta speaking bahasa. I can't speak Chinese and have now lived most of my life in Australia while the rest of my family are still back in Indonesia. Peony N' Pearl was born out of my love for floristry and gemstones… and in hindsight my disdain in commuting for work. I work from home mostly on flowers for weddings in parts of Autumn, Summer and Spring, and in the quieter times I stay in my studio and make jewellery and silk flower accessories for markets and online.
Why is it important to you that you run your own business?
I think for artists in general, it is important for us to express our individual style and voices. Having your own business is arguably one of the best ways to do that. Your branding becomes your identity and it is something you can be proud of and say that it is yours. I first plunged into my own floristry business mainly because I felt dissatisfied with the opportunities I was presented working inside a shop. It was still a very good and valuable experience as I learnt a great deal, but when you're outgrowing the pot you're planted in it is certainly best to move. 
What is the most significant way in which your life has improved since starting your own business or what is the most rewarding part of owning your own business?
I've felt a lot more freedom ever since I quit my day job – and am therefore a lot happier. It comes with a cost though as owning your own business means more stress, responsibility, and sometimes I feel like I am losing my mind when I think too much about stuff instead of doing stuff – but it's definitely worth the freedom that it comes with.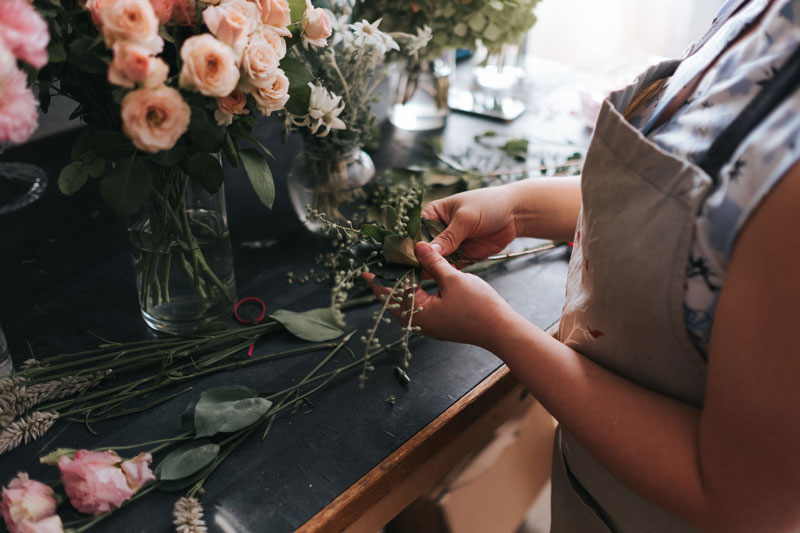 Why do people love your product/service?
I can't say this for myself but I have had positive feedback that I cherish and they keep me going. Floristry is one of those things that you work on that requires a lot of trust from the customer. You can't make them a 'sample' product. They will have to have seen your work and then trust you 100% that you will do a good job on the next one. A bride once said that I 'nailed' their brief- which means that I have successfully listened to them. And another is they can feel that I don't really think so much about 'making money' as a priority over looking after my clients. I take that as a huge compliment. Providing flowers for weddings is such a special and personal thing and since my clients book me months in advance we keep in contact quite often until the work is done. Hearing them say that they're being properly looked after within that time makes me so very happy.   
How did you work out exactly who your ideal customers were?
Haha… good question. I think I'm still trying to work it out. I guess with jewellery it's mainly a taste thing. Either you like it or you don't – and if the price is within their range then I guess those are my target clients. So my client sort of formed itself. With floristry I get all sorts of people so it is really hard to pin point. 
Where do you go for inspiration on how to continue to build and grow your business?
Instagram. Haha… This wasn't the case a few months ago, but now, it definitely is. I've realised that I have plunged into the business not knowing what success really means to me. But when I look at other peoples 'success' it paints a picture of what success might look like for me too.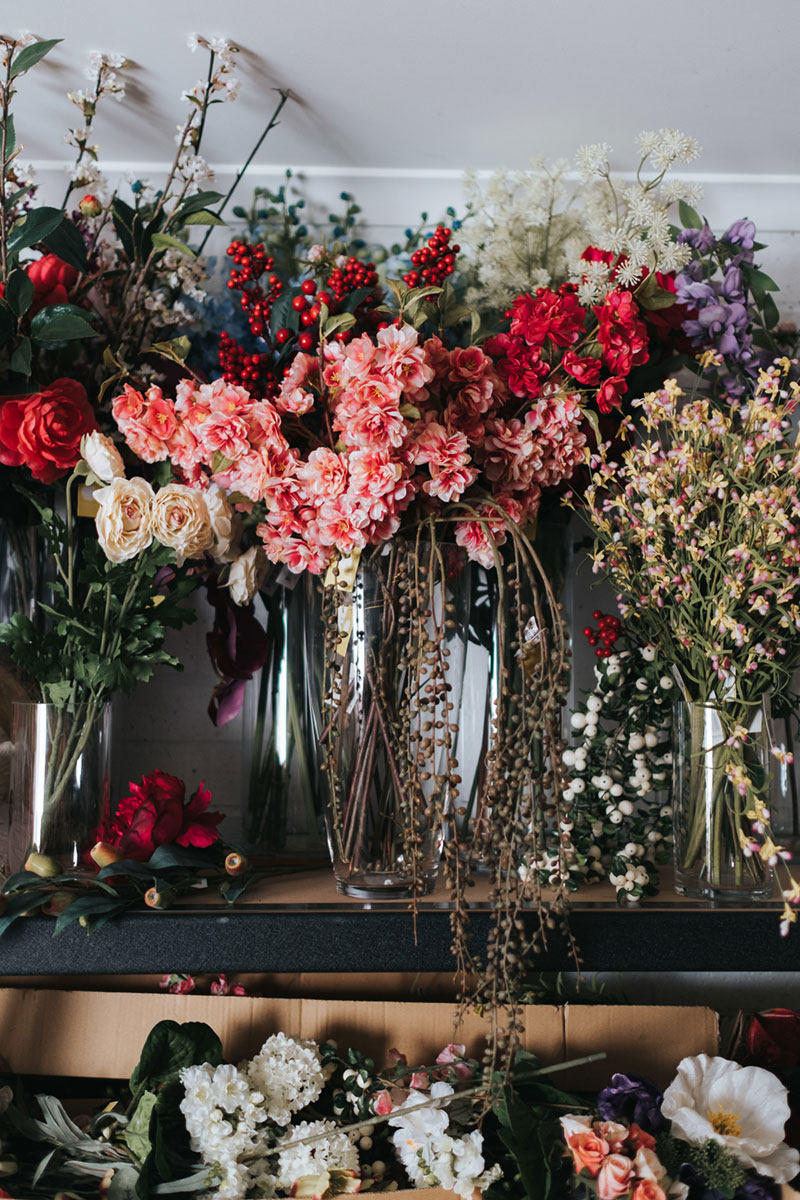 What would you say your biggest strength or asset specifically as a woman has been, in running your biz?
Going off what other people have said about me, I think my personality plays a big part. I have happened to create a job that suits me and that makes the business sustainable. Part of this personality is that I love my job as much as I love meeting new people and ultimately I get to look after them by doing something that I'm good at. 
As a small business owner, what is one thing you would say that every business owner should be doing right now in their business?
Endeavour to keep finding out who you are. Learning from other people is great but having your own opinion (such as being honest about what you like, or don't like) is even more so because it makes you who you are – and it keeps your business unique to everyone else's. This, I think is so much more important than I am able to express. The creative business is a constant learning curve so you will need to keep working harder if you want to grow, and it will feel like a struggle but ultimately I think if you don't struggle or break stuff you will never really improve or do anything different.  Ok, so that's 2 things. 
What words of wisdom can you give to anyone just starting out on their small business adventure?
Dream a little bigger than what you first thought. Out of all my friends I felt like I'm the only one who made this mistake of not dreaming big enough when I started. When I first set up my floristry work space I thought working in half of a single garage and getting a double flower fridge (I was even considering a single door fridge!) was enough. I struggled a few weeks later and had to renovate a year later which makes things a lot better. But I definitely wish that I had bought a bigger fridge to begin with! And of course work your butt off and surround yourself with like-minded creatives as much as possible – these people are both your friends and a valuable asset. Work together and collaborate as much as possible if you can. There's nothing more rewarding than pulling off a project created with different talents.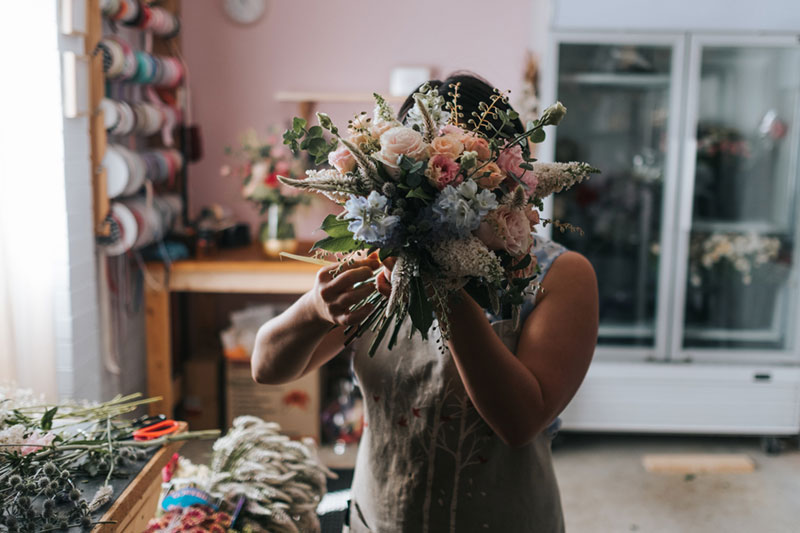 What excites you when looking ahead at the next three years for your business?
I have no idea. Haha… thats bad isn't it? I'm a very dissatisfied person so I never really get excited about anything unless I'm already there. But if I force myself to dream big I would love a bigger work space to create and to store more vases. I just hope that I will be better in general. Another opportunity that has been provided to me recently is providing regular floral workshops to various people. That might form a different facet to where I will be in 3 years time.   
How can people find you?
I don't have a shop front so online and social media is where I'm at! You can also find me Handmade Market which is held quarterly at EPIC in Canberra.
Facebook: www.facebook.com/peonynpearl
Instagram: www.instagram.com/peonynpearl
Website: www.peonynpearl.com.au
---
Photography by Miss Gen Photo
For more inspiring stories of women and men running their own creative businesses, read more Meet the Maker posts. 
If you're ready to take your business idea and make it a reality, it's time to become a member of The Makers Academy.
I give you the tools to plan, launch and grow your idea into a thriving business so you can become self-employed and stay that way.
Cut through the bullshit so you can start creating your dream business, TODAY