This is the second post in a blog series documenting my journey attending market stalls in Canberra, and talks about my very first market stall at the Handmade Markets back in 2010! 
Luckily for me, I documented all this on my personal blog, and will be re-posting those entries here. When I read over my old posts, I saw that I was quite open and honest about all the things I sucked at, what failed, and my plans to improve. I'm hoping this will help people who may be just starting out selling their wares at markets, to show what most new-market goers go through, and to give you the confidence to really smash it at your next one! =)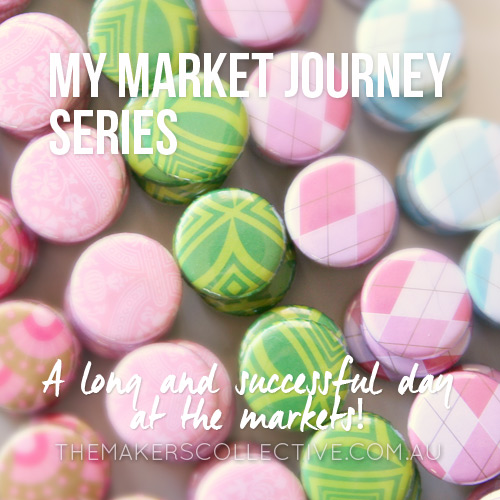 Five years on and I still remember being in a mad panic setting up my very first market stall, being worried about my crushed tablecloths that I had rigorously ironed the night before, and feeling completely unsure about all my products, my set up, and everything else!
But I had a great day, and though every market I am *still* in a mad panic to set up in time (being early is not in my genetic makeup), it get's easier and easier every time. I've also put in place some processes to make life a bit easier (which I'll talk about in a future post in the series). So stick at it!
—
Mar 28, 2010
A long and successful day at the markets!
We had a lovely day today at the Canberra Handmade Markets at Kamberra Wine Company, thank you to every one who came by and said hello! My mum and husband were amazing and stayed with me for a few hours each, and my dad came by and helped us put up our umbrella in the morning… I'm so lucky to have such great family members. So many people also came by to say hello or buy things from my stall! JA's mom and dad both came by, Chloe & Scott, Miri, Natalie, Elizabeth, along with other friends and work colleagues! It really did help put me at ease, so thanks again everyone =)
I totally confused everyone by calling the badges and magnets "buttons", so will be changing that for next time! I am thinking about actually making some with proper sewing button backs, so we'll see how that goes.
I was quite nervous setting up, because everyone else's stalls looked so professional and they had so much stuff! But my little stall did better than I expected, so I'm really happy =)
My best sellers were the Yuzen paper magnets, and the single alphabet letters (I thought they'd do well). The least popular were the jumbo buttons magnets, I don't think I sold a single one! I also found out a few things about my set up, mostly is was pretty good, but next time I'll lay more things out on the table instead of having them in jars, as some things got neglected.
I wasn't sure going in to the whole market adventure if it would be successful or not, but it turns out my creations were fairly popular, which makes me a happy panda!
—
Are you intimidated at all to attend your first market as a stall holder, or just super excited?
If you're ready to take your business idea and make it a reality, it's time to become a member of The Makers Academy.
I give you the tools to plan, launch and grow your idea into a thriving business so you can become self-employed and stay that way.
Cut through the bullshit so you can start creating your dream business, TODAY