Why do you need an email signature? These days, in the times of algorithms across social media, page rankings in Google and exorbitant print-ad costs (along with declining print readership and no "click through rate"), email, for the time being, remains one of the most cost-effective marketing tools at your disposal.
Besides the well-known strategy of growing an email list and sending regular communication via newsletters and the like, there is another way you can get strategic with email for marketing your business, and it's an easy one to implement: the email signature. Adding an email signature to your emails you send in your daily communications can increase the response rate and client interaction with your business. It can add valuable information, and a sense of trust (and professionalism!) at the end of every message sent.
This post was originally written for Mums with Hustle.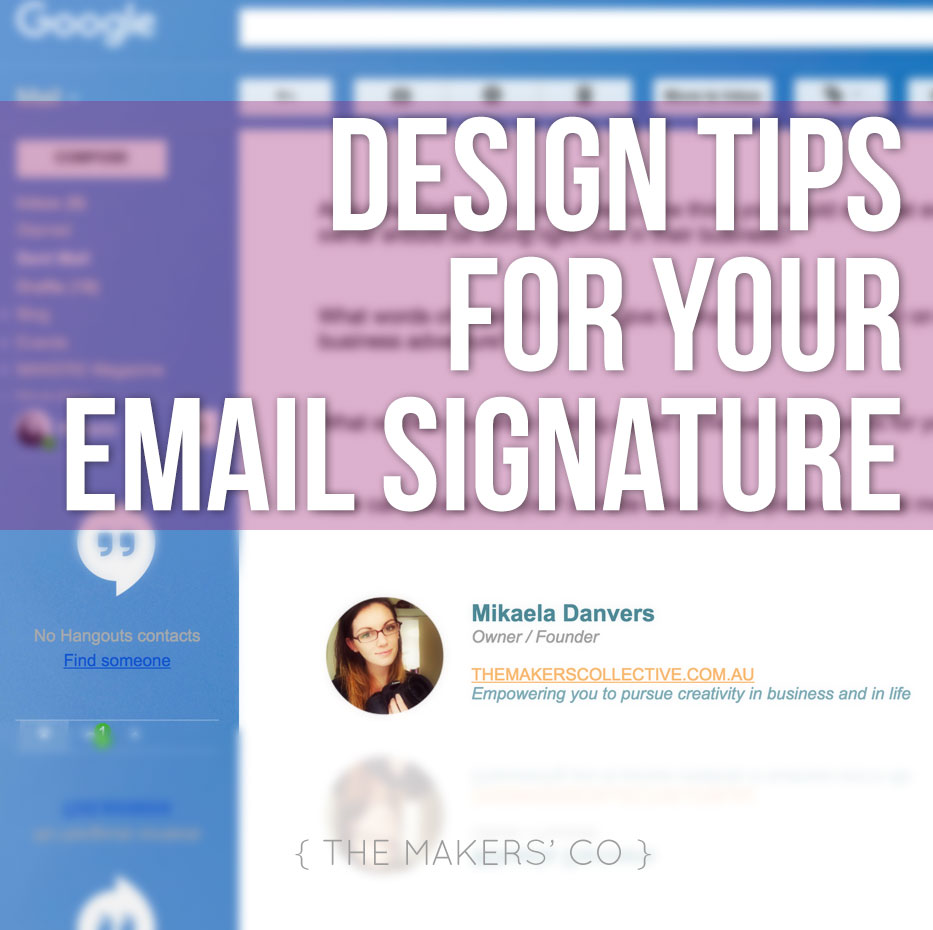 According to HubSpot, the average person sends 41 emails per day at work. Though it might be slightly less (or perhaps more!) for the average hustling mama, that is a LOT of opportunities to get more traffic to your website, and let your contacts know about your biz.
Design Tips
The two main things you want to remember when putting together your signature are:
Keep it simple
Stay on-brand
Keep it simple
Basically, you don't want to detract at all from the main purpose of your email, which is to communicate whatever message it is that you are sending. A hugely detailed signature with images, 4 links, 6 social icons, an email address and a promo offer is just TOO. MUCH.
Ideally, you want to have a nice image of yourself, your name, your website, and a short tag line explaining what you do. Depending on your business and the nature of your daily communications, you can include other information such as social links, but of course all that information should be easily found on your website.
I've created a short 3 minute video of me putting together my own email signature for The Makers' Co, to show you how to pop an image to the left of some text in Gmail.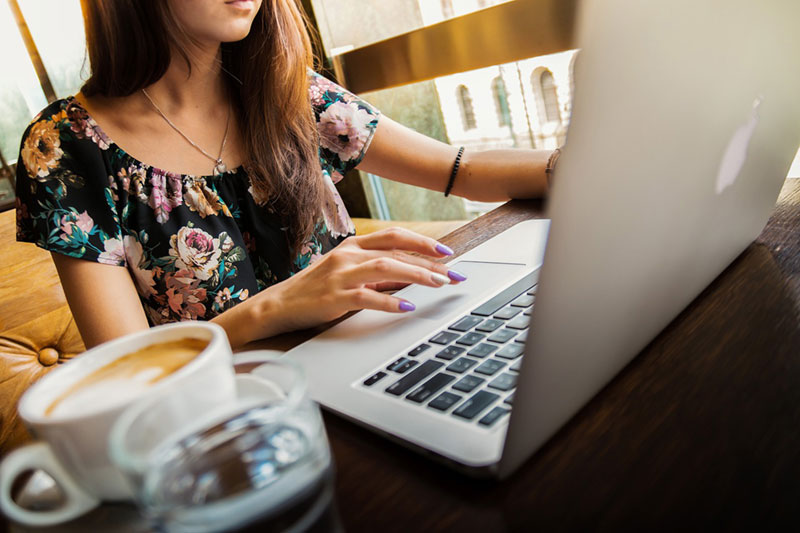 Stay on brand
Every single touchpoint you have with your customers needs to be telling the same story, and the way to do that is with a strong visual brand. All fonts, colours and imagery needs to be as consistent as possible across every type of communication – and this includes your email signature!
Be sure to try and match (as closely as possible – it can be tricky sometimes with the limitations given by email service providers) the elements of your email signature to your style guide (if you have one!). This means type choices (typeface, font weight and size, and colours), photography style and general layout all need to be in line with your visual brand.
What you can include
• Your website address, in a unique way (as part of a call-to-action)
• Your top three (max) social platform accounts
• Your phone number
• If you deal with international clients, an international pre-fix for your phone number
• Your short, concise mission statement / by-line / elevator pitch
• An image of yourself or your a great photo of your products
• Web-safe fonts
• Image banner underneath, with your current promotion – not too big!
Many articles online advise against using images because some email clients strip them out, but interestingly research has shown that including colour photos of yourself will make you that much more memorable:
"Research shows that the most memorable photos are those that contain people. Psychologists have also found that colour images are more memorable than black and white" – yesware
I've made another super-short video to show you how you can easily save a profile photo with a circular crop and transparent background using the free online editor PicMonkey, AND how to create your own blog post graphics in Photoshop.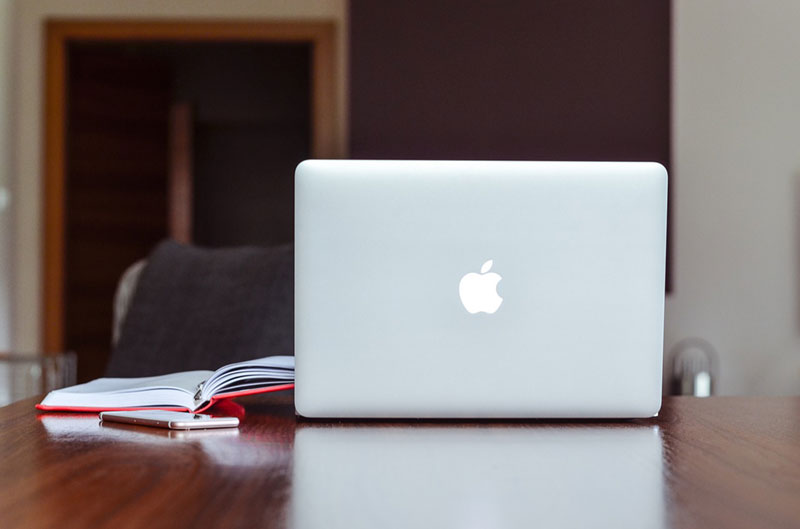 What NOT to include
• Your email address (there is division about this, in larger companies where your emails are being passed around and CC'd multiple times, there is an argument for including your email address in your signature. For the most part though, it's unnecessary. It's like including two return address labels on the back of an envelope for the same address)
• A fax number (everyone under the age of 25 is probs asking "what *is* a fax actually, anyway?")
• Every single social platform available
• Large images
• If you only deal domestically, an international prefix for your phone number
• Inspirational quotes
• Full hyperlinks with the http:// in front and the / at the end… so messy
• Every single service you provide
• The entire email signature as an image (if someone has images blocked they won't see ANY of your info)
Including promotions
It's totally acceptable (and recommended!) to include information about your latest promotion underneath the main information of your email signature – just make sure it's not distracting or too aggressive. A small image banner linking to a page with more info or a sales page is great, or alternatively a purely text promotion with a link will work perfectly well also.
The main thing here is to remember to switch out the promo when it expires!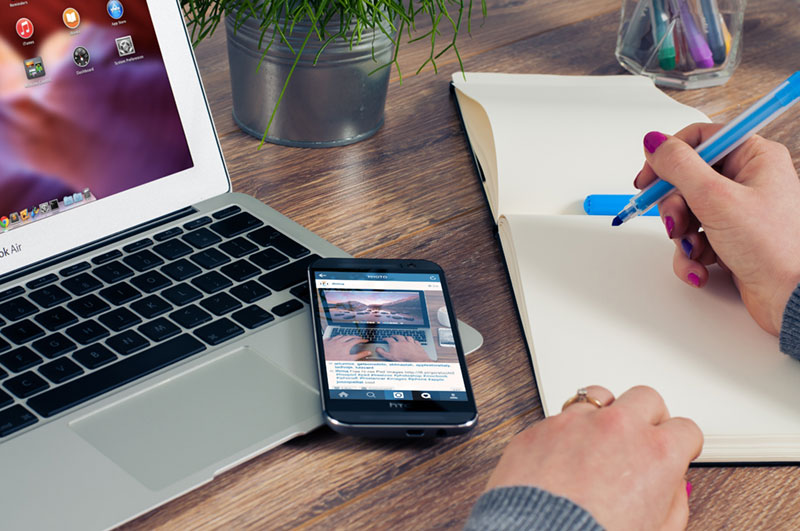 The How-to:
Here's how to manually set-up your email signature (if you so choose):
How to set-up your email signature in Gmail
How to set-up your email signature in Outlook
Let me know in the Makers' Co Community group once you've optimised your email signature, and if you see an increase in traffic!
Want to know what you need to do to start your biz?
Grab my Ultimate Business Starters Checklist now - it's a tickable PDF!
[mc4wp_form id="10407"]
CAN YOU CONFIDENTLY SAY YOU ARE WORKING ON THE RIGHT THING, RIGHT NOW IN YOUR BUSINESS?
Sometimes, even when we are doing all the right things, it can feel like we're spinning our wheels and not moving forward at all. This could be because you're focusing on the wrong area of your business – or doing all the right things, but at the wrong time.