This is the third post in a

blog series

documenting my journey attending market stalls in Canberra, and talks about expanding my range for my market stalls in 2010. 
Luckily for me, I documented all this on my personal blog, and will be re-posting those entries here. When I read over my old posts, I saw that I was quite open and honest about all the things I sucked at, what failed, and my plans to improve. I'm hoping this will help people who may be just starting out selling their wares at markets, to show what most new-market goers go through, and to give you the confidence to really smash it at your next one! =)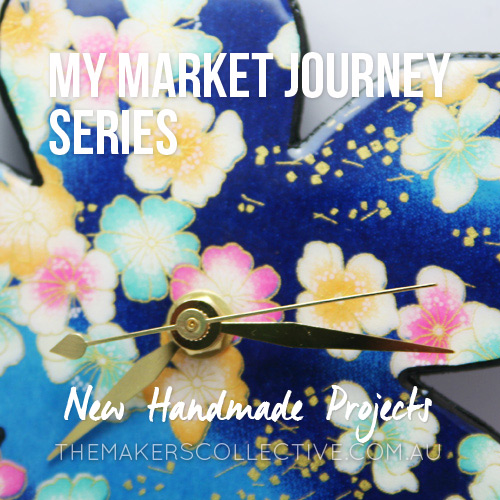 The only thing I miss about my time before becoming a mama and being self-employed, is having more time to just sit and create new things.
Even with a full-time job, sporting commitments, and a social life, I still managed to have time to just tinker around with ideas. This was a big part of how my little business grew into it's current form, and my products have come a LONG way since those first buttons at my stall in 2010. So keep tinkering, people!
—
Jun 27, 2010
New Handmade Projects
I've been working on a few ideas for Japanese inspired items to take to the next handmade markets along with my Yuzen Paper magnets and badges. I've created my first blossom clock, featuring the Yuzen paper with a resin coating, and also a cute little Kimono doll which I made for Katie's birthday present. My friend from Work, Nelle, who has lived in Japan and is a Japanese languages teacher, is going to help me out to get the kimono wrap right… apparently the way I've done it at the moment means it's dead! haha poor little doll.
These were both really fun to make and I'm looking forward to making lots more to take to the markets in September.

Both the Yuzen Clock and the Kimono Dolls will be in the Mikaela Handmade online store too =)
—
Are you starting out on your own market stall journey? Keep a diary of how it's all going, you'll love looking back on it in 5 years time!
If you're ready to take your business idea and make it a reality, it's time to become a member of The Makers Academy.
I give you the tools to plan, launch and grow your idea into a thriving business so you can become self-employed and stay that way.
Cut through the bullshit so you can start creating your dream business, TODAY